A Teacher Appreciation Week Like No Other
After a year of virtual and hybrid learning, teacher appreciation is more important than ever before
The Marriotts Ridge staff put a great deal of effort into making students' high school careers successful and enjoyable. National Teacher Appreciation Week (May 3-7) is meant to honor them by recognizing the time and work they put into their students.
In 1935, Eleanor Roosevelt convinced Congress that teachers needed a day to be recognized for all that they do. It's believed that some schools in certain states were already observing the day, but she wanted to make it official. The National Education Association (NEA), in partnership with Kansas State and Indiana State Boards of Education, lobbied Congress in order for the day to be recognized. Despite Mrs. Roosevelt's best efforts, it would take another 27 years for it to become an official national day in 1980.
The NEA describes National Teacher Appreciation Day as "a day for honoring teachers and recognizing the lasting contributions they make to our lives." Teachers are kind, patient, hardworking, dedicated, and understanding professionals who help mold students and guide them in positive directions.
"An issue I used to have was being very shy, however, the teachers have helped me to build up my self-confidence within myself, as well as shaping my life by helping me stay on the right track and make proper decisions," freshman Neev Saraf said.
National Teacher Appreciation Week is not only to honor teachers, but to show them that they help make lasting impressions on their students' lives. Whether a student wants to send a small gift or a kind word, make sure to let teachers know that they are appreciated.
"Teachers work a lot harder than anybody knows. They deserve to know that we do appreciate what they do for us as students," junior Jay Yodzis said.
This past year has been especially important, with the Marriotts Ridge staff constantly putting in extra time and work into making Marriotts Ridge a fun learning environment, even during distance learning. Many staff members have worked around the clock to adjust their teaching to work well online, all while continuing to support their students.
"We, as students, can make sure that our teachers know how appreciated they are by writing them letters/notes, making them drawings, or just simply telling them," sophomore Cate Early said.
From e-cards and thank-you videos, students turning on their cameras during class, to classroom goodies and decorations, the ways a student can thank their teachers are abundant. Teachers play a critical role in educating and shaping students, which deserves appreciation and recognition.
"Teachers have motivated me to do greater in the community as well as in life. Throughout my high school career, they have made me smile as well as checking up on us on days that were unfortunate," Saraf said.
The Marriotts Ridge staff constantly takes time to make sure students are succeeding, creating a strong foundation for students.
"I'm really grateful that all of the teachers at MRHS have been so helpful in regards to Covid-19/distance learning and now [with] the switch to hybrid learning. It's been difficult but the teachers have helped to make it easier," Early said.
School has been difficult for everyone, but students have been able to get through it, in part because of the amazing Marriotts Ridge staff. Their work and impact have provided a much-needed sense of community and connection.
"I will never be able to thank the teachers of MRHS enough! I hope they know that, at least, we always appreciate the hard work that they do for us," Yodzis said.
Teachers deserve gratitude every moment of every day, but if there was ever a time to shower our Marriotts Ridge Staff with appreciation, it is now.
About the Contributor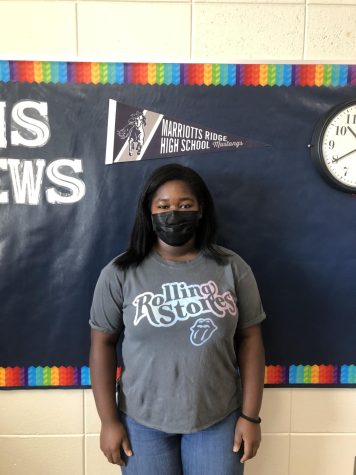 Kierstin Delk, Feature Editor
Hello, my name is Kierstin Delk. I am in Journalism III and work as a staff writer and feature editor. In my free time, I like to hang out with my friends...