New Teacher Feature: Scott Supik
Mr. Supik, a social studies teacher coming from Oakland Mills middle school, is one of the many new teachers here at Marriotts Ridge. After teaching for eighteen years, two of which he taught at Oakland Mills Middle School, Mr. Supik had decided to teach eleventh grade World History at Marriotts Ridge.
"Marriotts Ridge is much bigger. Going from middle school to high school, there's a lot more going on, more clubs, more activities, a lot more kids. It's a bit of an adjustment to get back into a bigger school," Mr. Supik said.
Covid-19 affected many teachers' lives, especially the new teachers who are still adapting to their new school. Going from teaching middle schoolers virtually then moving to a whole new school and learning how to teach an entirely different grade while still being affected by Covid-19 can be difficult. Covid-19 changed the way teachers taught and thought, like how teachers are trying to keep some things virtual for students while still trying to enjoy the in person sense of it.
"I'm using a lot more online stuff and using canvas a lot more, and now that we're back in school I'm trying to mix some of that stuff in. It's changed the way I look at teaching, some students learn better on the computer and some don't. I'm just trying to add more of the computer stuff in and bring back a little bit of the old school stuff now that we're back in person," Mr. Supik said.
Getting used to teaching in person after teaching virtual is difficult to say at the least. Many changes were made but for the most part all the teachers and students were happy to get back to school. "I was not a huge fan of virtual teaching. I really enjoy the in person aspect of it, so I'm much happier being in the room and interacting with you guys. Even though it can be harder than virtual teaching, I like being in person more," Mr. Supik said.
Even though teaching can be much harder in person, there are still many in person things to look forward to this year.
"Just getting back into the high school flow, going to sporting events again, seeing you guys, hosting a club, just generally being part of a high school community again because there's a little bit more going on in a high school and there's a little bit more to do. I'm going to homecoming! I'm going to make sure everyone follows the rules at homecoming!" Mr. Supik said.
Although it is difficult to get back into high school again, the future is full of opportunities and experiences for the new teachers. Mr. Supik looks forward to teaching at Marriotts Ridge this year, along with many other new teachers.
About the Contributor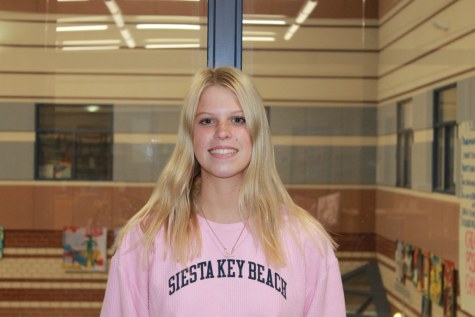 Samantha Matlock, Features Editor
Hi, my name is Samantha Matlock. I'm a senior and the Features Editor for The Stallion. I love writing and being in journalism, and outside of school,...