A Capella Club Performance Adjustments
Unable to organize in-person meetings and events during the pandemic, the Marriotts Ridge A Cappella Club struggled to do what they do best: make music. Reliant on real time synchronised blending and arrangement of sound, the separation of its members created difficult challenges for the group and impeded their ability to create and perform arrangements of music.
The A Cappella Club consists of students who strive to perform music with the accompaniment of their peers as opposed to the mainstage styles of modern music that incorporate instrumental and electronically made sounds.
"A Cappella singing requires the singers to know how to hold their parts completely since there are no added instruments to guide the voice. Singers must know how to listen to each other and blend while also letting their voices shine. Still, I really love all of the amazing things voices alone can do," senior Hashini Amarasinghe said.
Throughout the 2020-2021 school year, the club utilized online tools and applications to help them, one of which included the application called Soundtrap: an online cross-platform digital audio workstation that allows users to create music or podcasts.
Despite the premium mixing and recording features Soundtrap provided, it struggled to provide the club with the quality audio that they'd come to know and love before going virtual, which fueled the club members' eagerness to start the new school year in person.
"I am much more excited at the prospect of making music together this year as we can all sing together as opposed to in our own homes," senior Jay Yodzis said.
Now that the school year has transitioned from virtual to in person, many of the club's projects have become much more feasible and of higher quality, along with the goals of its members and president.
"I feel that the A Cappella Club has picked up more momentum and people are more willing to join the club and participate, since singing virtually is usually more difficult than live singing. As president, I would like to increase support and participation in the club by encouraging more music lovers to join and have fun creating fun music. I also want to record more songs and try to perform a variety of songs. Performing in front of audiences would be wonderful but it is still tentative," Amarsinghe said.
With a new school year comes new opportunities as the club avidly practices their first song of the year, "Run to You" arranged by The Pentatonix, a harmonic filled song that encapsulates the importance of moving forward and not dwelling on things of the past. The club's choice of songs varies greatly and allows for all of its members to find and share music that they love.
"I think the group can do any style of music that we put our mind to. We choose our music by picking out the songs that people in the group enjoy and seeing if everyone else is willing to give it a try. If not, then we move on," junior Colin Wang said.
Not only does the club promote A Cappella singing, but its members also encourage their peers to join choir and experience the revelational impact it can have on oneself. The creation of music promotes coordination between one person to another and creates relationships through the production of prime sound.
"Let yourself be free! This is definitely something I had to let myself do going into choir and joining the club. When I started to open up and contribute my voice to Mustang Chorale in ninth grade, the friends I had made in the choir were so supportive and pushed me to continue with choir!"
People who enjoy singing as a hobby are encouraged to actively practice and participate outside of their everyday lives: it creates new opportunities and forms relationships that can impact your life for the better, just as it's done for Amarasinghe.
"I now see myself performing professionally all because I didn't hold myself back. I know it's difficult to start anew and it can be very scary, but once you overcome shyness and fear, the confidence you build in yourself will propel you forward to great things!!
The confidence that Amarasinghe experienced from trying new things goes to show how powerful of an effect that it could have on our own lives, alongside the bridges you build and the people you meet.
"I also think it's important to develop connections and healthy relationships with your fellow music makers. Having healthy relationships with those you make music with is integral to creating a unified sound of musicians who all love to sing together," Amarasinghe said.
Backed by the transformative powers of music, the future for Marriotts Ridge's A Cappella Club looks brighter than ever as it avidly works to create music from scratch. It's A Cappella-mazing!
About the Contributor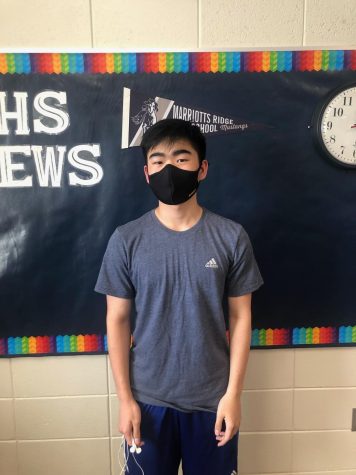 Alex Hwang, Staff Writer
Hi, I'm Alex Hwang and I'm a Sophomore here at MRHS. This is my first year of Journalism, and I may not have much experience in writing news articles,...