Vaccination Requirements for Winter Athletes
With everything finally getting back to a new normal, winter athletes are excited to get started and get back into the swing of things with new and returning teammates. As tryouts start, vaccination concerns among winter athletes arise. With this occurring, there has to be some way to be able to participate and be safe, this is where vaccines come in. This year, all athletes are required by Howard County policy to be vaccinated or tested weekly for COVID.
Winter athletic tryouts were held in the full school week before Thanksgiving break. Some school sports include basketball, cheer, wrestling, and indoor track. Fully-vaccinated athletes were encouraged to submit proof of vaccination documentation by November 11th, either via an HCPSS connect link or by emailing Mr. Reagle, the athletics and activities manager. Students who were unconfirmed as fully-vaccinated but still wishing to participate in school sports needed parent permission to undergo weekly HCPSS COVID screenings. In addition, coaches for winter sports are held to the same standards- either face weekly testing or submit proof of vaccination.
"You either have to get vaccinated and show your vaccination card, or you have to get tested weekly and wear a mask," junior Arha Deshpande said.
Some students believe that this new policy encourages students to get the coronavirus vaccine.
"If you don't get vaccinated you can play, but will have to get tested weekly and you might miss important things," sophomore Ben Rosenbloom said.
Other students do not think that the county approach will make too much of a difference in reducing COVID rates.
"I think these days most people are vaccinated; it won't really matter too much, especially for varsity," freshman Patrick Curtin said.
Because all fall sports were held outdoors, there was less of a concern with athletes submitting vaccination records. With all the sports being inside, many were uneasy that the virus would spread much easier.
The vaccinated students do not have to worry as much as their unvaccinated teammates about contracting the virus. If athletes were to get the virus, they could end up getting taken off the team until they are covid clear. However due to the nature of the illness, many athletes could end up losing their stamina, causing their whole team to suffer.
There is a whole season of exciting winter sports coming up. Hopefully MRHS can be safer by having the vaccination requirements, and will still perform well.
About the Contributor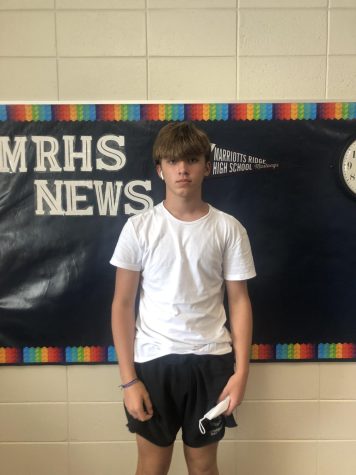 Lukas Trellis, Staff Writer
My name is Lukas. I'm a freshman and this is my first year in journalism.I like playing basketball and hanging out with my friends.