Merriweather Post Pavillon Anticipates an Electrifying Line Up for 2022
The beginning of summer marks the annual opening of Columbia's biggest outdoor concert venue: Merriweather Post Pavilion. Located in the Symphony Woods neighborhood of downtown Columbia, the outdoor music pavilion is a popular destination among Marriotts Ridge students and the general public. Bringing lots of variety of talented and famous musicians right into our own backyard each summer.
The venue offers tickets for both seats in the pavilion where people can sit down and watch the concerts up close, but also less expensive lawn seats where people can bring picnic blankets or camping chairs to enjoy the live music.
This year, the season kicked off with a three day metal festival, M3, that ran from May 6th through 8th. The festival not only featured several popular metal bands including Blue Oyster Cult and Skid Row, but also featured a number of bands from Howard County and other local high school students from across the region. Whether you are a country music fan or a metalhead, this concert season has something for music lovers of all kinds to enjoy. For pop music fans, artists AJR, the Lumineers, and Halsey will take the stage this summer. Artist AJR, a trio of brothers, is scheduled to perform on May 14th following last year's release of their album "OK ORCHESTRA." The Lumineers, best known for their songs "Ophelia" and "Ho Hey" are currently touring for their new album "Brightside" and will perform at Merriweather Post on May 25th. Singer and Grammy Award Winner Halsey will be taking the stage on June 8th with indie pop artist beaodabee as her opener.
A great deal of different rock artists will be taking the stage this summer including Robert Plant of Led Zeppelin on June 11th, Tears For Fears on June 19th, Third Eye Blind on July 23rd, The Black Keys on June 25th, and Duran Duran on August 23rd. This year's lineup not only encompasses many different genres of music, but also includes music from many different eras and subgenres of rock with popular artists from 80s New Wave, 70s Classic Rock, and modern alternative rock.
On top of M3, Merriweather is hosting a variety of festivals this season including the All Things Go Festival and the Outlaw Festival. The Outlaw festival is a touring show featuring several country artists and will come to Merriweather on September 17th. The headliners for this year's tour include Zach Bryan, Willie Nelson, and the Avett Brothers. The All Things Go Festival is a yearly event that features major Indie and Pop Acts. The show will take place on October 1st and will mark Merriweather's second time hosting this event. The festival will be headlined by popular artists Mitski, Lorde, and Bleachers and will feature several other bands including King Princess, Hippo Campus, and Peach Pit.
While Merriweather Post is primarily known as a concert venue, it also holds a variety of different shows and events. On August 5 and 6th, stand-up comedian John Mulaney will take the stage at Merriweather on his tour "From Scratch". Mulaney, best known as a writer for the television program Saturday Night Live and his multiple Netflix specials, is extremely popular and his performances are highly anticipated.
Not only does the venue provide opportunities to see a variety of different artists of all types, it also serves as a social spot for high school students to see concerts with their friends and family. If you're a music fan or looking for a fun summer activity, Merriweather is a great place to consider visiting.
About the Contributor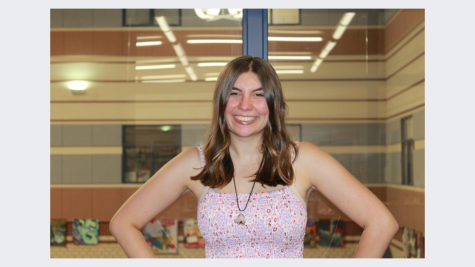 Annie Sarlin, Editor-In-Chief
Hi, my name is Annie and I'm so excited to be serving as your Editor-In-Chief this year! I'm a senior and this is my third year in journalism and I...