Marching Band Marches Into a New Season
The beginning of the school year marks another marching band season, and students sit down to discuss their thoughts on the experience thus far.
"I think marching band is really great," freshman and baritone player Tofunmi Oni said. "To start with, it's great exercise. It encourages you to work out and has you striving to be your best. It's also just really cool to be a part of a group effort to make something really cool in the end."
Junior and mellophone player Sam Sirianni-Chaitram expresses a similar sense of excitement and shares how the interpersonal relationships she's formed have enhanced her marching band experience.
"I think it's a lot of fun because everybody's really close," Sirianni-Chaitram said. "Even though practices are exhausting, you have to memorize your music, and it's really time-consuming, you have a big group of people who are like-minded, which really helps because everyone likes each other and we're all really close."
There are many marching events such as competitions at local high schools and performances at football games where students are excited to participate. After weeks of long and tiring practices, students look forward to having the opportunity to see the payoff of their hard work. These opportunities also give students the chance to bond and create meaningful relationships with their bandmates, some of which extend so deep that seniors will come back to visit the younger members of their section after graduating. Out of all the different events, students share what they are most eagerly awaiting to take part in.
"I'm looking forward to the homecoming game, some of the marching competitions we'll have in the future, and the day when the music's fully perfected," Oni said.
Sirianni-Chaitram chimes in on what she's excited for as well.
"I'm looking forward to the competitions because they're so fun," Sirianni-Chaitram said. "We not only got to see other bands, but also got to perform because we've been working really hard. It's really rewarding because we realize that we're actually really good."
Mr. James Nick Ellis, director of the marching band, offers his perspective about the season. "I'm really looking forward to seeing how we do at the first competition," Mr. Ellis said. "It gives us a read of what the judges think and what the audience thinks. Sometimes, the audience reacts a lot differently than the judges and vice versa, so that's what I'm really looking forward to."
Although it has its fun moments, marching band is, without a doubt, a greatly challenging and demanding activity. Mr. Ellis dishes out some advice to younger students to provide them with a source of comfort.
"Be patient," Mr. Ellis said. "Do your homework and do the practice you need to do with your marching and playing, but be patient. It doesn't happen overnight."
Drum major and senior Abigail Dunchak believes that it's important to live in the moment and make the most of the experience.
"Just truly enjoy it because it's really special and fun," Dunchak said.
Overall, there is an overwhelming sense of excitement for the marching season, and students are prepared for an amazing season ahead.
About the Contributor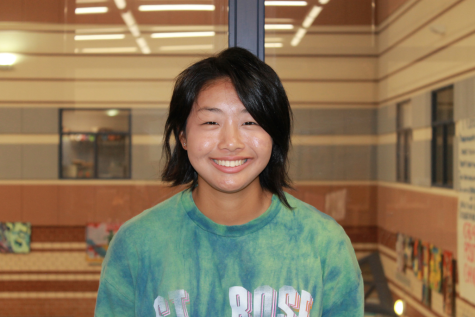 Annie Wang, Overflow Editor & Staff Writer
Hi! My name is Annie, and I'm a senior. I'm involved in Marriotts Ridge's speech and debate team, and I play the french horn both inside and outside of...