Dance Recital Leaps to Center Stage
Under the direction of new dance teacher, Ms. Owens, Marriotts Ridge's dance program leaps into the winter season with a dance concert showcasing Dance Company (DCO), Junior Dance Company (JCO), and Dance 1-4's astonishing hard work.
With the departure of former Dance teacher Ms. Reyes, the Dance Department had to plan ahead. In order for the annual winter dance concert to arrive as it had in the past, the dancers at Marriotts Ridge needed a fearless leader to guide them to the stage. In her stead, Ms. Owens has already demonstrated her amazing leadership and choreography during this year's Pep Rally as she is now preparing another spectacular performance for December 2nd.
By taking over the program that has been so special to Marriotts Ridge since its opening, Ms. Owens has had to, "make it [her] own and honor some of those things that were traditional… [all while] using student voice, and [her] own, to create what [she] believe[s] Marriotts Ridge's dance program should look like."
The dance program values a sense of family, which continues to hold true throughout the mornings of hard work and dedication that these dancers have put in and through Ms. Owens's unwavering commitment.
Ms. Owens currently splits time between two schools, in which she is the head creative director of Marriotts Ridge's dance program as well as a partner to Wilde Lake.
When asked what makes each program special Owens expressed, "Each program is different because they bring their own backgrounds to it and you kind of like see that in their dancing, the culture, and the community."
As well as managing two schools across the county, Ms.Owens faces the struggle of balancing JCO and DCO, which have been combined in one class period.
Trying to find a balance between two different groups of students all in the span of 50 minutes, Owens says, "You have to divide that time between the two. That way they both get individual time with me to be able to grow, but at the same time they have independent student learning time."
While Ms. Owens has been working hard on choreography, some of the dancers at Marriotts Ridge have been preparing student choreography of their own to showcase in this winter concert.
Stage fright is common among many dancers when performing choreography, but when one's own choreography and ideas are being displayed, the fear of the situation often intensifies.
According to sophomore Sophia Lippe, "There is an open field for judgment when your name is on a dance, which is terrifying."
Anyone can understand the trepidation of judgment or ridicule, having put so much heart and soul into such a special moment, but Lippe says, "I have faith in my dancers that they can pull off my vision."
Faith in one's friends and colleagues is the key to success in any team, knowing that when the time comes there will be people to get the job done, and that everyone is doing it together.
Preparation is key to the success of any show, physical as well as mental. When talking to freshman Gwen Kwon, she said it's important to, "stay positive and know that one mess up doesn't make me a bad dancer and there is always room to improve and advance."
Everyone will make mistakes and missteps, but performers have to put on a strong face because the show must go on. Worrying about the mistakes one makes often leaves a dancer feeling as if that's all an audience will remember. However, according to Lippe, "It's the fun you have backstage as a group" that really makes the performance memorable.
With memories in mind, senior Lily Eshleman shares her thoughts on this being her last winter concert and cherishing the years she's had with fellow seniors.
"I've been dancing with these people for a long time and so now it's … almost [our] last time dancing together… but also exciting. I think it's bittersweet," says Eshleman.
Coming to the end of an era is what the senior year of any high school student entails, but these final moments will make memories to last a lifetime. So come to the dance recital on December 2nd make your own memories and celebrate these dancers while appreciating all their hard work.
About the Contributor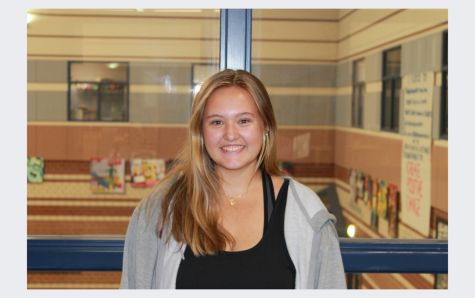 Reese Holter, Staff Writer
Hi! My name is Reese Holter, and I'm a junior. I am an invested member of this school, participating in sports and activities such as field hockey and...