Spilling the Tea on Local Coffee Shops
Zach reviews local cafés.
Inviting decor, mouth-watering food, and great conversations: cafés are a great way to get out with friends or focus on studying. Cafés offer a unique atmosphere and experience, and here are some of my favorites.
First up is Café June, the restaurant that first piqued my interest in cafés. Café June is located just off route 40 in the Glory Days shopping center. Walking through the door, you are met with earthy colors and calming music. A variety of plants, vinyl records and books line the walls and there is plenty of seating to settle in and get comfy. The food matches the atmosphere, and everything I've tried is delicious. My favorites are the sweet cream cold brew, a tasty iced coffee, and the signature dish, the croffle. A croffle is a croissant in the shape of a waffle with a scoop of chocolate, strawberry, or matcha ice cream on top, strawberry being my favorite. The wood accents add to the calm atmosphere and turn the place into a perfect study spot. The variety of inventive food and drink options make it enjoyable to revisit, and I always have a great time when I go with friends.
The next café might not be as well known among Mustangs, but with a short trip to Old Ellicott city, under the bridge and on the left you can spot the Old Mill Café. The restaurant has a red brick exterior with a cozy wood interior. Artistic accents and paintings line the walls and add color, with bookshelves filling the space. The crêpes are fantastic, and Old Mill Café makes its own pop-tarts. Instead of serving an average pop tart, Old Mill decided to load theirs up with a thick pie crust and sweet jelly. They are delicious and pair well with whatever else you order. I'm a sucker for sweetened iced coffee, and Old Mill definitely checked the box. I fondly remember the warm environment and lighting while devouring a Nutella crêpe.
Also in historic Ellicott City is the Little Market Café. The restaurant lies just off Main Street, tucked among red brick and greenery in a little teal building. The café only has a serving window and outside seating, but that's part of what makes it so special. The outdoor dining creates a blissful atmosphere, and the menu offers exactly what you would expect: sandwiches, pastries, coffee, the whole lot. However, Little Market stands out because of what it provides to the community. Located right in the middle of Old Ellicott City, the restaurant stays connected by hosting local bands and emerging artists. They hold notable events that are incredible to attend.
Trendy drinks such as boba and matcha have also added to the recent café craze. All around, restaurants are popping up to serve this new wave of beverages. Boba is essentially an add-on to regular drinks. Also referred to as tapioca pearls, these sweet, chewy balls are put in tea, coffee, and smoothies. They have a fun, squishy texture and one-of-a-kind taste. My favorite boba place is Tea Top, located in the back of the Enchanted Forest Shopping Center, offering sugary drinks and a stylish, modern vibe. They have many options, and there is something for everyone to choose. Matcha, on the other hand, is a ground green tea powder mixed into drinks and food. I love the Kyoto Matcha restaurant on Route 40. It's located right behind the EC Dinner, and their modern ambiance makes the matcha taste even better. They have lots of green plants, decorations, and accents to go with the matcha theme, making it fun to sit down and enjoy your matcha in house. Their matcha ice cream is fantastic, and both the brown sugar boba milk drink and matcha lattes are scrumptious. More than once, I've gone to Café June for lunch and then snuck over to Kyoto Match for dessert.
My last mention goes to Tropical Smoothie Café, which puts its own twist on the classic café. Instead of featuring coffees and pastries, Tropical Smoothie's menu is primarily smoothies (I know, who would've thought). Their refreshing smoothies have lots of flavor combinations and the option to make your own. The food is decent, but the focus is on the drinks. I usually pop in and take a smoothie to go; they're some of the best I have ever had. My go-to smoothie is the Mango Magic, and I'll mix it up with a Bahama Mama occasionally. The location is convenient, right on Route 40 in the same shopping center as Sprouts Market and Play it Again Sports. The interior is built for carry-out, so there is not a ton of seating and decoration. The interior is a playful take on a traditional café with lots of white and splashes of color to keep with the smoothie theme.
As a whole, there are tons of café options nearby, and I encourage everyone to experiment; maybe you will discover a new go-to drink or fun study spot.
About the Contributor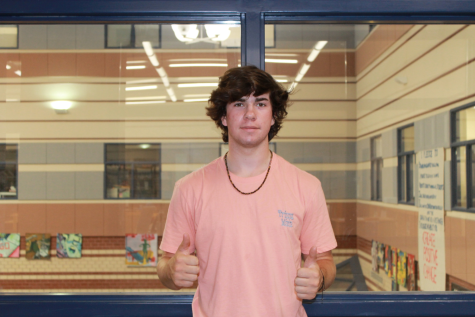 Zach Vernick, Editor-in-Chief
Hi, I'm Zach, this is my fourth year in journalism and I am the editor-in-chief. I don't have a doctorate in English or anything, but I did pass 8th...