Grease is the Word at MRHS
The Marriotts Ridge Theater Department recently finished a successful run of Grease. The show ran from February 9th to the 11th at the Marriotts Ridge auditorium, and many students were excited to see the school's take on the 1978 classic.
Cast and crew worked for hours rehearsing and memorizing their lines for the show, and students were thrilled to see how their peers would perform on stage.
"Theater is real cool, and I've always loved Grease. The songs, the dances, the plot, everything about it makes me laugh. I'm really looking forward to seeing my friends and classmates on stage," senior Rebecca Lee commented.
Students looked forward to traveling back to the 50's to see the beloved musical in live action.
"I'll probably go see Grease, I remember watching it with my family when I was younger, and we always had the best time. I think theater is very creative and I support it. I love Grease, it's a classic and it's so funny," junior Raphael Feldman said.
Other students were excited to see the show because of the famous hits from its soundtrack, including "You're The That I Want" and "Look At Me I'm Sandra Dee."
"I can't wait to go see Grease with my friends. I think I am most looking forward to seeing the Beauty School Dropout song … because it's always been my favorite scene in the movie," junior Nadia Klementsen explained.
Creating a production takes a great deal of work, including the memorization of lines, music, and dances.
"The hardest part was definitely remembering the choreography and remembering what scenes are in what order," senior Kelly Maclean, who is performing as Marty, said.
In spite of these challenges, students looked forward to performing and had a great time preparing for the show.
"I think Grease is a great show to have for senior year and I love the role, I love playing the character, so I think it's a great opportunity. I like being with my friends the most because they are all the main cast, and we're always together hanging out on stage," Maclean said.
Students at MRHS were lining up to go see the cast and crew perform Grease, and they had an incredible three performances. While Grease has come to a close, students who are "hopelessly devoted" to MRHS theater should be sure to see their upcoming spring play, Clue on March 2nd and 3rd.
About the Contributor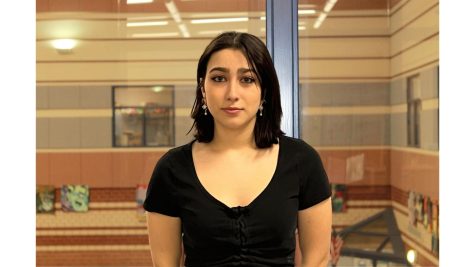 Maya Fauver, Staff Writer
Hi, my name is Maya Fauver and I'm a Junior. I'm in my second year of Journalism and I'm so excited to be one of this year's writers. I like to box,...