Literary Magazine Club
A new club, Literary Magazine, is on the rise, taking on a journalistic approach while incorporating different mediums such as art, photography and writing skills. This club just started this year to make students' voices heard as well as learning more about our school community.
Literary Magazine is about making sure different kinds of students, who may specialize in something different, get a chance to design something that will impact their peers.
Mirroring the many other club leaderships here at Marriotts Ridge, the leader of the literary magazine is a sophomore who is very enthusiastic about getting this club up and running.
"So, at the moment, I run the club alone. More leadership positions are being formulated, so is the election process; everything is to be decided," sophomore Victoria Li said.
Running the club alone comes with lots of responsibilities. Such activities include gathering materials, advertising the club, gaining more members and making sure everyone stays on the same page. This is a major part of what makes up a club, which is making sure it is efficient and effective in the sense of maintaining professionalism as well as having a good time too.
"The club is about giving students a platform to share their creative works that are otherwise not encouraged as much by standard school courses. Art and photography have their own clubs, but with this magazine I hope to present their works to the greater student population," Yi said.
The main reason for this is having the members embrace their talents and make them noticed by the school community. Joining clubs is also a great gateway to meeting people who have similar interests.
"I decided to join because I figured that clubs were necessary in order to enrich my high school experience. Not to mention the fact that I've always had a love for creating things and it seems that the literary magazine is a place where I can express that and do what I enjoy most," freshman Zoya Ali said.
Along with enjoying the job that comes with the Literary Magazine, it also is beneficial to learn skills for something new.
"I hope to gain more skills relating to editing since I've never done something like this before." sophomore Audrey Grutzik said.
The members are very excited about this starting up, but there are lots of different options that they have to consider. Such as choosing which section they would like to do.
"If I were to choose one section, I would choose writing since I feel like it's nice to express yourself through words," freshman Essa Karim said.
Being able to express oneself is very important no matter what type of medium you choose. All that matters is if the members are satisfied with their work and it follows the formatting that it is supposed to be in.
The club has met two times, so they will meet every Thursday in room 334. With trying to accomplish multiple things at once, money is also a thing that needs to be taken into consideration. They need to be able to make a print magazine, but that takes a lot of time and effort to do.
"I am hoping to be able to create a full-fledged literature magazine with this club! It'll be about 50 pages long with a thick, glossy cover. I would like this, but we will need a lot of money." sophomore Victoria Yi said.
With the school year just starting, there is a lot to look forward to for the Literary Magazine. Starting with humble beginnings, the Literary Magazine Club is sure to make a splash in the Marriotts Ridge community.
About the Contributor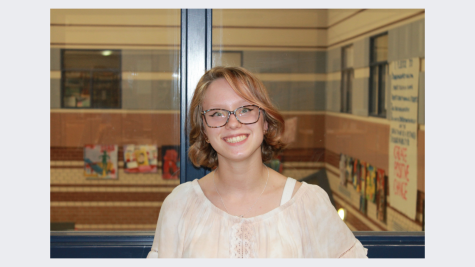 Brooke Mosher, News Editor
Hey there. My name is Brooke Mosher, and I am a senior. This year, I'm the news editor for The Stallion, and this is my fourth and final year in journalism....