Seniors Applying to College
The college application process has always been difficult, but due to the recent COVID-19 pandemic there is a lot more pressure on seniors when filling out college applications. Currently, the Marriotts Ridge class of 2022 seniors are applying to as many colleges as they want, and can afford, in hope they will be able to find the right fit.
For most, the college application may be the hardest and most feared step of the process of going to college. People fear this process for many different reasons: for some it's the wait, for others it's the overwhelming choices of schools, and for many more it's just the idea of leaving high school and moving onto the next chapter of their lives.
"The hardest part of college applications is being nervous. I get nervous about not knowing if I'm not doing something right, and also not knowing if I'm going to get accepted to the University of Maryland," senior Daniel Omotoma said.
College applications may trigger emotions to anyone applying.
"The hardest part of college applications is all of the stress accumulating and having to use the Common App, because it's a new app and I've never used it before," senior Carter Brown said.
Along with the stress from learning how to actually apply, seniors are also finding difficulties planning out which colleges to apply— after all, the uncertainty surrounding each choice can sometimes be insurmountable.
"If I don't get into the University of Maryland, I will apply again and again because I will not take no for an answer," senior Omotoma said.
Seniors may have a plan and want to stick to it but sometimes things don't go the way they want, so there's always room for backup.
"I would feel disappointed but I'm always prepared for a change of plans, so I have backup options," senior Brown said.
As seen with seniors Omotoma and Brown, the college application process can be quite the daunting task. Sure enough, just learning how to work through Common App and dealing with stress from unsure application statuses are enough to scare off the toughest of students. Nonetheless, it's important to keep one's head up in the midst of everything; to stand strong in the face of overwhelming obstacles.
"Keep your head up and don't give up, there's no room for failure in this world," senior Omotoma said.
Sometimes, even things like morale and time management aren't enough to combat the stressful college application. For struggling seniors, the option to talk with school counselors is always there. With their complex understanding of the college application process, they're often the best place to go to for advice if one is struggling with their college applications.
"Talk to as many people as you can, talk to the alumnis, admission officers and upper classmen, and keep your options open and don't fall prey to following the crowd. For instance, if everyone around you is going to a four year college, I don't think that it should be an automatic assumption that you're going to a four year college. If everyone goes to the south, I don't think that it should be the best option for you, so do what's right for you but do the research to figure out what that is," counselor Mrs. Baek said.
There are approximately 5,300 colleges in the world,
"Take a deep breath and relax. There are almost 5,000 universities, so there is definitely a good fit for anyone who wants to go to college. Another thing is everyone's timeline is different, so whatever your goal is you might not hit that goal on your first attempt. If this is you, you'll realize you hit the biggest opportunity you can get; the chance to reassess yourself and consider other options that might suit you better," Mrs. Baek said.
Even though the application process can be daunting, it's an event in many seniors' lives filled with growth and maturation. With the support of MRHS and its community, the seniors will continue to put in their best efforts to reach for the stars in terms of college applications.
About the Contributor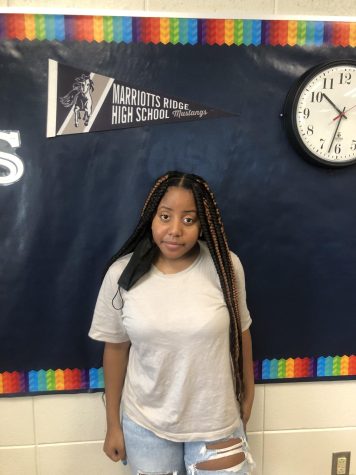 ahniyah otugalu, Staff Writer
Hi I am Ahniyah a junior at Marriotts Ridge. I am a staff writer and this is my first year of journalism. I'm passionate about black lives matter, my friends...