New NBA 2K
In the past few months, many great new video games have been released. For the basketball community in Marriotts Ridge High School, one of the most noteworthy includes the recently released NBA 2022.
"What makes 2022 enjoyable to play is I feel like I'm really in the NBA when playing, and the story mode is phenomenal," sophomore Bryce Adams said.
NBA 2022 in particular has received a lot of love from its fans upon the release. One of the reasons 2022 is so popular now is because the game has made a lot of upgrades in their game, including but not limited to: a new way of shooting the basketball, a new level up system, a new place to play games, and new celebrations/emotes to show off against your opponents on the virtual court.
"I loved NBA 2022, because I really like playing it with my friends and it is very enjoyable and fun to play in general," sophomore Shan Azamy said. Like what Azamy and Lefevre mentioned, NBA 2022 is likeable because of its group-friendly playing system, loveable story modes, and engagement with its players. As such, it's not surprising that many of the MRHS community have been spending most of their time with the game.
"On weekends I tend to spend 8-10 hours a day," sophomore Adams said.
"I play the game for about 5 hours on weekends playing a story mode called mycareer on weekends," sophomore Lefevre said.
After a down year in 2021, NBA 2K fans were just happy to play another fun 2K game again. The last time fans have encountered a game from the company was during the year 2020, and have claimed their love for NBA 2020 to be insurmountable.
"My favorite game of all time is NBA 2020 because it was out around the time quarantine started so everyone was playing it with me," sophomore Bryce Adams said.
NBA 2020 was enjoyable and fun to the extent that it was because it was released just before the worldwide pandemic, and at the time one of the biggest forms of entertainment was video games.
Though there are many other video games that have been favored by the public throughout the years, NBA 2K has gained its reputation in the MRHS community as a reliable and enjoyable video game for many in the basketball world. The 2022 version is a welcomed addition to the franchise, and as time goes on one can only hope that it'll be mentioned as one of the great pieces in NBA 2K.
About the Contributor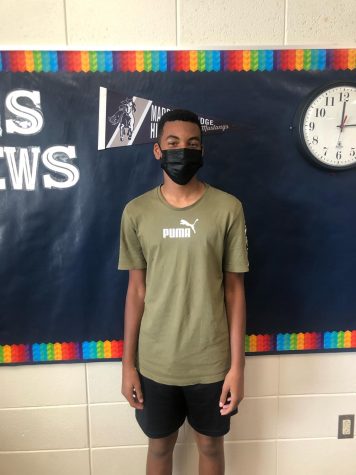 Roland Brooks, Staff Writer
Hi, My name is Roland Brooks, I am a sophomore, and this is my first year in journalism. I will be writing about different sports topics this year in the...