Golf Season Recap
The Marriotts Ridge Golf team just finished up another fantastic year; both the girls and boys teams played undefeated golf, winning county titles. With captain Alana Alexander-Giles winning the county championship and a solid performance at states, this is another great year to add to the team's legacy.
Both teams' 5-0 regular seasons had many highs, the boy's team stretched their undefeated streak to 83 games. This streak started back in 2013 and marks the ninth year without a loss. Not to be outdone, the girls' team tied the county scoring record in their first match versus Hebron.
"I feel so happy, it's a big accomplishment and made us look for higher standards for next year," sophomore Erin Jeong said.
High school matches use the Stableford scoring system, earning points for how they score on each hole. That match, the girl's team collected 92 points between 4 people- a phenomenal score-with plans to smash that record next year.
After that first match, both teams played unstoppable golf, steamrolling their way to the county title match against River Hill. There was a lot at stake for this match since River Hill has a formidable team. For the boys, the winning streak was on the line as well, 9 years of golf success was riding on their backs and the pressure was on.
"I understood River Hill was ahead of us," sophomore Neev Saraf said, "they're very good. Even through their bad shots they managed to always come back and wouldn't let their resolve go."
Before the match, the team's lone senior, Daniel Tuma, pulled aside his peers. He shared a similar message to the one passed down from previous upperclassmen.
"I told them that at this point, none of the previous matches matter anymore," Tuma said. "The score is currently 0-0 and we have to go play our game with confidence… no previous shot should make an impact on your next shot. I told them that all 8 players will make mistakes, that's how golf is… keep your attitude and emotions at a good, stable level [and always] bounce back."
After a shaky start, the team settled in, a couple of clutch holes from each player resulted in a 94 point performance to match River Hill's 90. With this match, the Mustang's winning streak continued.
"I'm very proud of the team for working hard and helping me to pull through to keep it alive," Tuma said.
The girl's team finished with a blowout 74-56 win. This final match resulted in another tied record. With an average score of 27 points, or even par, junior and captain Alana Alexander-Giles entered an elite class in county history-shared by only two others.
Following up a fantastic regular season Alana was the team's star performer at the Country Championship, an individual event consisting of the best golfers in the county. She took home the championship shooting a 75, or three over, to beat out River Hill's Helen Yeung by one stroke.
A lot of Alana's motivation came from a bad loss at the district championship two weeks earlier. The loss sparked redemption and preparation ensued to erase the bad mark.
"I just knew I wanted to play better than districts. I practiced every day and mentally told myself I was better than [that]," Giles said.
After a great season, the team's top performers headed to the state final. After the first day of the competition, the team landed in fourth place, just a couple of strokes out of the lead.
"Well a bunch of us went to the range the day after that first day and we practiced a lot, and personally that helped a ton," freshman Lila Beker said.
The team was ready but as always hit some major obstacles.
"The conditions were way harder the second day, the wind was insane," freshman Lila Beker said.
After the combined 36 holes, the team stayed in fourth place, a very impressive finish. However, the team wanted more, setting the goal of taking home the state title next year.
The team performed very well throughout the season but a lot of its member's main takeaways were the chemistry and good times they had together.
"It was actually really fun being on the golf team; the team chemistry was just immense," sophomore Navneet Kunadi said.
Not only was this season good, but the team has a very hopeful future.
"Our team is so young; we have so much potential in our underclassmen. We also have a lot of people coming over from Mount View…[and we're] only getting stronger," Lee said.
As the golf season comes to a victorious close, the golf team is ready to dominate next year as well and maintain their triumph in the county.
About the Contributor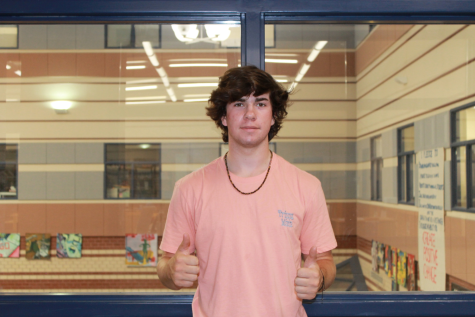 Zach Vernick, Copy Editor & Sports Editor
Hi, I'm Zach, this is my third year in journalism and I am the copy/sports editor. I don't have a doctorate in English or anything, but I did pass...