Marching Band Competition Update
On October 30th 2021, the Marriotts Ridge marching band scored first place in the band showcase at Linganore High School. After Covid-19 struck, the marching band hadn't played together in over a year and a half. Still recovering from the pandemic, the marching band put a lot of time and effort into rehearsing, and it certainly paid off. The band won their last competition of the season in the "three A class" with a score of 88.5, which also happened to be the highest score in all A level classes.
Coming back together to play again as a group definitely came with its struggles. The band was stuck in third place from the previous competitions, but in the final competition of the season, they pulled through. The band believed it was the fun, focused, determined, and family-like atmosphere that helped them persevere through the struggles Covid brought. Struggles like keeping everyone healthy, teaching two new classes to march, and not being able to play together in a while.
"We had to overcome a very inexperienced band because of Covid, getting used to playing together as an ensemble because of Covid, and I just say, keeping our focus mainly. Having the goal of first place I think was one of the main things that drove us," freshman Avery Saylor said.
In order to get first place, a lot of practice and time was required. "It took two very tough weeks of practice in the hot summer, 5 days a week, about 8 hours each day in the hot sun. There were also 4 hour long Wednesday practices. It was very tiring and it was expressed in the end when we won because all our hard work paid off in the last competition which is why everyone was really relieved that we won," sophomore Issac Lee said.
Needless to say, the marching band members were thrilled when they found out that they got first place. After all the difficult and tiring work, they finally got the reward they deserved. "We were really happy about it, we had been getting third place until our last competition which is when we got first, so we were obviously really happy about it. We were just glad our hard work had paid off in the end. I think our performance went really well, it definitely got better over the weeks we were practicing it and it was definitely one of our best performances by the end of the season," senior Hannah Lee said.
Through all the challenges this year had to bring, the marching band persevered through it all. Everyone's excitement and relief showed how hard they work for this. "Getting first felt really good because the whole season we were just getting third place at every competition. I actually was one of the people who was given the award, I stood up at the field, so that was cool. Our performance was pretty good, the music this year was way harder but I think we did pretty well," senior Brendan Shin said.
The Marriotts Ridge marching band is stronger than ever and has many things to look forward to in the future. We thank the marching band for all they've done and congratulated them on their big win!
About the Contributor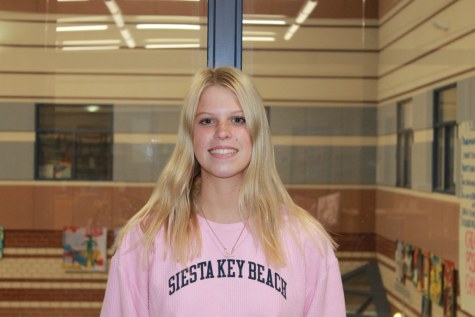 Samantha Matlock, Features Editor
Hi, my name is Samantha Matlock. I'm a senior and the Features Editor for The Stallion. I love writing and being in journalism, and outside of school,...