Thanksgiving Traditions
As the Thanksgiving season approaches at Marriotts Ridge, students are getting ready to spend time with family and friends and for a welcome break from the school year. Lots of students are getting ready to participate in family traditions and fun activities.
The Thanksgiving holiday is about gathering with family and friends to give thanks and enjoy each other's company. Many people have family traditions that they take part in and others who may not have any traditions may just enjoy doing fun things with family and friends.
Some students play games with their families during Thanksgiving.
"We always have an Uno tournament, but there's money on the line. I just started being eligible to play that because you have to be 16. It's a fun time," junior Aidan Elliott said.
"I like cooking food with my family. It's fun. So you know, getting that mac and cheese, putting it in the oven, it's like there's just something in my heart, you know what I mean? And then taking it out of the oven and giving it a quick whiff, very nice," junior Aidan Elliott said.
Food is an important part of the Thanksgiving Holiday and many gather with their families to cook.
"My family and my uncle's family, we all get together and make lasagna together. And then we all sit together and have dinner together. Then we watch a movie," senior Sai Naraharisetti said.
Naraharisetti's favorite part of Thanksgiving is the tradition of giving thanks and being grateful.
"We always hold hands and say what we're thankful for, I think that's cute," Naraharisetti said.
Some students are just excited for a break and to let go of reservations.
"Forgetting about any diets or being healthy and just enjoying the food is a great time," freshman Shrisha Dhakhawa said. "My favorite Thanksgiving tradition is just eating all the food."
Many students are just looking forward to eating good homemade food.
"Every Thanksgiving, my mom makes Haitian meals with traditional American meals and we enjoy it," sophomore Narah Obas said.
Obas also enjoy making desserts during the Thanksgiving break.
"If I were to recommend a fun Thanksgiving activity, I would say bake a pumpkin pie or make any dessert," Obas said.
Many other students are excited to participate in cooking themselves.
"Making a chocolate cake or anything chocolate is a fun time," freshman Sophia Lippe said. She recommends other students to do the same.
There are also many fun activities that students enjoy doing over the Thanksgiving break.
"I like going to the pumpkin patch," senior Arnav Raju said. "Clark's Elioak Farm is a nice one," Raju said.
From playing Uno to making lasagna, the students at Marriotts Ridge have lots of interesting Thanksgiving traditions that they participate in. Overall, students are excited to participate in these traditions, along with doing fun activities with family and friends.
About the Contributor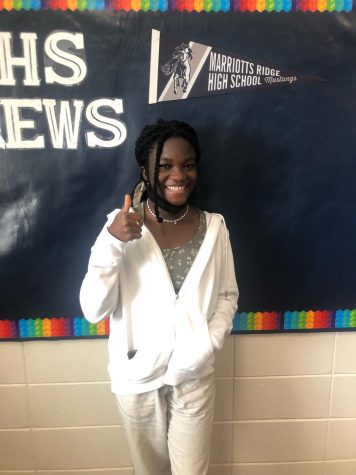 Niyi Odewole, Staff Writer
Hi, my name is Niyi Odewole. I'm a sophomore. This is my first year of journalism and I am a writer. I like listening to music and reading. I also like...