Relay For Life Teddy Bear Sale
The Marriotts Ridge Relay for Life is a service club that fundraises for the American Cancer Society. Every year, the club holds a Holiday Teddy Bear Sale where students can buy various stuffed animals, and the proceeds will go to support the American Cancer Society. The stuffed animals will be sold during all lunch shifts from December 6th to December 17th.
"As with everything we do, all proceeds this fundraiser generates will go directly to the American Cancer Society," senior and co-president Hudson Grill said.
In addition to the traditional teddy bears, the club will be selling a variety of stuffed animals. Students will be able to purchase dogs, penguins, and moose.
"We are selling 5 different kinds of animals: penguins and moose are eight dollars, white bears are five dollars, and small dogs and bears are being sold at two dollars," junior and secretary Tanvi Kotta said.
While the club also hosts a popular Valentine's Day Rose Sale and a 5K, the Teddy Bear Sale is one of Relay for Life's biggest fundraisers of the year. Students often purchase the stuffed animals for themselves or to give as gifts for friends and family.
"This fundraiser is definitely one of the more recognizable ones that the school has to offer. Every year, we make a sizable donation to the American Cancer Society due to the support from the student body," Grill said.
Members of the club enjoy selling the bears and see it as an opportunity not only to support the organization, but also to socialize and make new friends.
"The fundraiser has been very enjoyable [in past years]. It's fun to sit there with a friend and practice sales pitches. It's also cool to talk to people you've never talked to before," Grill said.
Students enjoy the sales aspect of it in addition to raising money for the American Cancer society.
"I get to practice pitching my ideas and thoughts, and I get to help people in need," Kotta said.
The club will also be providing an option for bear delivery. Students can select this and members of the club will deliver the stuffed animals to their friends and classmates during sixth period.
Students seeking to buy holiday presents or who want to support a good cause should consider stopping by the Teddy Bear Sale during lunch. For further updates on the club and the teddy bear sale, the officers suggest following them on their Instagram, @mrhsrelayforlife.
About the Contributor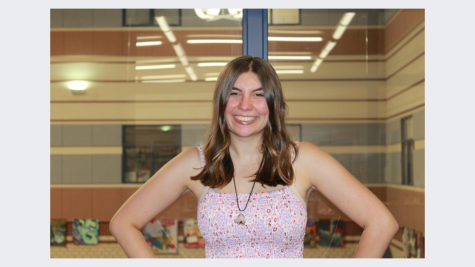 Annie Sarlin, Editor-In-Chief
Hi, my name is Annie and I'm so excited to be serving as your Editor-In-Chief this year! I'm a senior and this is my third year in journalism and I...