Wrestling Season Begins
After the publishing of this article, HCPSS made the decision to suspend all after school activity until January 15th, 2022. Dr. Martirano announced this decision in a statement on December 15th, 2021, in response to a sudden spike of positive cases. This decision will be revisited on January 7th to determine a future course of actions.
The Marriotts Ridge Mustangs started their season out strong with a pre-season 60-24 win against Howard. There's no doubt this team is something special, they have a lot of special players that bring a lot to the table. However, the wrestlers have been off for more than a year due to the absence of a 2020 season because of the school still being in Covid-19 protocols.
A team's morale is always important for the success of the players and coaches. The team should be strong physically, and mentally. The wrestlers all have different opinions on how the teams fair mentally.
"I think we feel good. We all feel strong. I think we are ready for our scrimmages, and I think we all feel excited," freshman David Sarkisyan said.
Others might think differently because of the status of their players. "I feel like it's down now since we have 15 people injured, so I think that it's at a low," freshman Jonah Obitz said.
There are mixed opinions on how the season is going to start. People think differently about how their season is going, but Junior Varsity Coach Muscato and many of the wrestlers are of the same opinion.
"We feel pretty good about it. Everyone's starting to hold out on their own. We have a new team because we lost an entire team last year. We have a lot of new guys who seem like they are up for the challenge. I think that we are doing better than the middle of the pack," Coach Muscato said.
Others also think that the wrestlers are in good shape and have room to improve."I think that we will have some difficulties, but we will become stronger," junior Skye Song said.
With Coach Muscato, Song is in agreement with the team being prepared and eager for the upcoming season.
Like every team, the wrestlers have rival teams that they are worried about. Some teams don't stand a chance, but there are a few teams that might put up a challenge.
"I think Mount Hebron and Aberdeen. Hebron I know in the past had a good team. Aberdeen, I heard some rumors about them being strong," sophomore Brian Johnson said.
"I heard some good things about Glenelg, and them having a good team and being strong, but other than that, that's it," freshman Steve Brunner said.
As mentioned earlier, the Wrestling team had been out of condition due to Covid-19 last year. Prior to this year they haven't wrestled and practiced as a team since 2019 so there may be a few differences from what they are now. "Yeah, I think that we definitely improved. We got stronger every practice, and that we can go against good teams now," senior Aidan Miller said.
Others, like Miller, also think the same, "We have improved a lot. We got a lot of new guys. I feel like we have a lot of potential this year, the coaches agree with this," sophomore Jamie Kraft said.
The Marriotts Ridge wrestlers are doing what they love, and playing matches that'll last throughout their lifetime. As a team, they have practiced hard to get to where they are now and are waiting to see what the season will bring for them.
[This article was updated on 12/16/21]
About the Contributor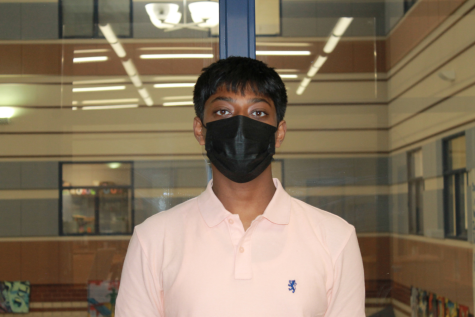 Arrshath Mohaideen, Staff Writer
Hello, My name is Arrshath Mohaideen, and I'm a sophomore. I'm a writer for The Stallion, and this is my second year in Journalism. Journalism is a...