Music Department Scrambles to Adapt to Cancellations
The Marriotts Ridge Music Department was in high gear of rehearsing for their performance dates of the December 15th and 16th Winter Concerts and the December 21st Jazz Cabaret when the announcement was given that all performances and other after school activities are canceled until at least January 15th. The spread of the Omicron Variant and a significant rise in cases in Howard County schools forced the school board to change their performance restrictions. Since the Marriotts Ridge music department was so close to their performances, music directors recorded their students' repertoire so that students can still share their hard work with the school community.
The recordings of the canceled events will be released in the near future via a downloadable link. Unfortunately, due to copyright reasons, the music department is unable to livestream any of the music.
The cancellation of these performances has led to feelings of disappointment and frustration among the students and staff who have worked so hard to make the Winter Concerts magical. Knowing that there are no concerts to look forward to has decreased energy and motivation among the music department.
"It's really frustrating. We have been working on our pieces for so long and we've put so much effort into this. We finally thought we would finally be able to come back and return to normalcy and have a real concert, but now that's not going to happen," junior Swaha Sarkar said.
While students are upset about the cancellation, they understand that it is necessary to take proper covid precautions.
"It's very disappointing that the concert was canceled so close to the performance date, but we understand that we want to keep people safe from the virus," junior Aruna Subramaniam said.
As with many artistic pursuits in the global pandemic, difficult circumstances have brought about creative solutions. On Thursday, December 16th, students in the music department arrived in full concert uniform to record their winter concert pieces during school hours.
"We recorded the concerts with a professional videography team because it's the best we can get [in these circumstances]," freshman Simar Saini said.
Those who are part of the Jazz Cabaret will be recording their pieces on Tuesday, December 21st. Separate from the winter concert, the Jazz Cabaret is a holiday tradition where members of the various vocal ensembles and the Jazz Band perform festive songs.
"Jazz Cabaret is a social event, and the energy [from an audience] would have helped us perform better, but it is very nice that the music teachers are making such an effort so that we can at least sing and perform, even if not in front of a live audience," Subramaniam said.
Even though the students had to do what they could to make their efforts pay off this year, there were many differences between the recording and the hypothetical concert.
"It was weird not having an audience," freshman Rory Taylor said. "It has been stressful and confusing, but I think that we made it work."
The cancellation announcement and frantic adjustments have led to a panic among music students for the upcoming semester and musical events that come with it.
While it cannot compare to live performance, a link to the Winter Concert and Jazz Cabaret will be shared among the school community so that the musical talents of Marriotts Ridge can still be showcased and holiday cheer can still be spread in some way.
About the Writer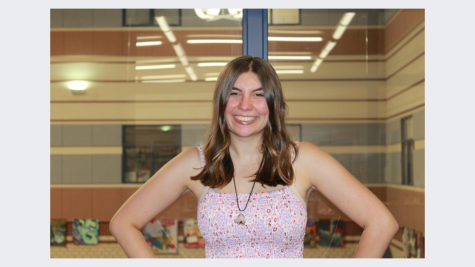 Annie Sarlin, Editor-In-Chief
Hi, my name is Annie and I'm so excited to be serving as your Editor-In-Chief this year! I'm a senior and this is my third year in journalism and I...