Cancellation of After School Events until 1/15/22
With rising Covid-19 cases throughout the county, the Board of Ed, Superintendent Martirano, and the Howard County health department have made the tough decision to cancel clubs, extracurriculars, and all athletic practices and contests to slow down the spread of Covid.
"Several months ago as we were planning for this school year, I was very clear: Not only do we want to start the 2021-2022 school year with fully in-person education for the majority of our students, we want to keep it that way for the entire year. Not only for two weeks. Not for two quarters. But the entire year. This decision has been made with that singular priority in mind to keep our students in school by implementing as many possible mitigation strategies to assist," Superintendent Martirano said in a recent statement sent out to Howard County parents and students.
This cancellation took effect on December 15, 2021, and an announcement was made that day to Marriotts Ridge students that there would be no after-school activities moving forward to at least January 7th. The announcement was made via afternoon announcements and canvas student community pages.
This was later confirmed and elaborated on by the school system in a detailed email. The email was sent to parents, teachers, and students.
"The following in-person activities are suspended immediately through Jan. 15, 2022, with a reevaluation on Jan. 7, 2022, to determine if an extension is necessary: Athletic practices and contests, Theater rehearsals and performances, School concerts and performances, Extracurricular activities, Field trips," said Dr. Martirano.
This cancellation is due to a spike in Covid cases throughout Howard County and Howard County schools. With no one remaining after school for any reason, the hope is that the possible exposure will be minimized.
"For reference, on November 18, our seven-day total of positive COVID cases in schools was 75, with 1,151 students and 34 staff members in quarantine. As of this morning, we are nearing 300 positive COVID cases in schools just in the last three days. In addition, we currently have 3,720 students and 146 staff members in quarantine," said Dr. Martirano.
This jump in cases has been caused by many factors, including but not limited to the rise of the delta and new omicron variant, loosened restrictions, and activities being moved inside during the winter. There is speculation that the growing number of cases is also in response to parents and students gathering in enclosed spaces as spectators and participants of athletic events where the air circulation is minimal.
Either way, this is a huge hit to the extracurricular programs at Marriotts Ridge. Basketball, wrestling, and track all have to postpone their seasons with no reassurance that they will get to play again. Losing this season would be a big hit to both the indoor track and wrestling teams. Athletes were given the start of the season, and to watch it get stripped away is upsetting. This announcement is especially painful to seniors who would lose two years due to mandated restrictions.
For basketball, in particular, this was an important season. The team had a new coaching staff and an excellent team. Led by captain Jordan Peguese and seniors Casey Pung and CJ Kocak, the team had a real chance at winning a county title this year. They started 3-0, electrifying the student section with their athletic skills.
"I think we definitely would've competed very well in the county and been one of the top contenders. I also think our team has very good chemistry, all of the guys play together really well and our coaching was really good; I thought we were playing very well before things got shut down," said Kocak.
If the team ends up losing this season due to the restrictions it would be devastating to both the athletes and the student population.
A large portion of the student body thinks the wrong decision was made, despite the rising COVID cases. Putting the punishment on sports could be avoided as many student-athletes are vaccinated and the student section could always have been removed due to safety concerns.
"I just think it's unfair that schools' continuing and sports aren't because really what's the difference if school is going on and sports aren't going on?" said Kocak.
As for clubs and extracurriculars, they still have a chance to continue their activities, just not at school. Clubs were given the option to move fully virtually, not much of a relief to a lot of students.
The music students in particular were excited about the concerts before it was sadly canceled. Students especially felt upset that their concert was canceled just a day before it was meant to start.
"It feels like mid-March 2020 all over again, and it gives me a bad feeling," freshman Simar Saini said. "We got all of our costumes ready just to find out that day that the concert was canceled."
In regards to the cancellation announcement, the music department decided to record their concert on December 16, rather than risk having a live performance. Students came to school in concert attire and instead of playing or singing to people, got to preform for a camera. They did this throughout the day, some missing classes, but eventually finishing the recordings for the winter concert. Doing it this way, people can still enjoy the music students have been working so hard to perfect. Yet, even with the recording, to these students, it feels as if their hard work has not been compensated for.
All these recent cancellations are sure to take a toll on students, but with Christmas break soon approaching there is time to reset with a needed break. Hopefully, time out of school will slow down the spread of the virus and allow for sports and extracurriculars to continue after January 15th of the new year.
About the Writer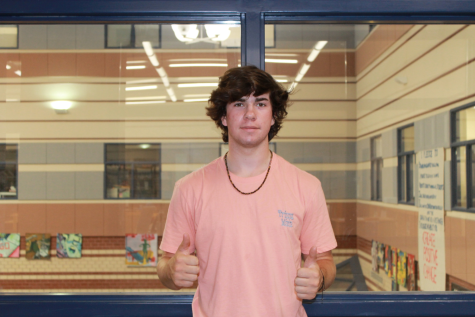 Zach Vernick, Copy Editor & Sports Editor
Hi, I'm Zach, this is my third year in journalism and I am the copy/sports editor. I don't have a doctorate in English or anything, but I did pass...