NBA All Star Break Preview
As the NBA all star break quickly approaches, so do heated debates and discussions about possible all stars. On top of this there are questions about who will participate and who will win the game.
On February 18th, 2022 the NBA all star break will begin, kicking off the weekend, is the Friday night celebrity all star game. This is a fan favorite that features everyone's favorite celebrities and stars. This has been a classic gag in years past and is sure to bring a smile to viewers' faces. The 18th also brings the Clorox rising stars tournament, featuring rookies, sophomores, and G league players. This is more of an under the radar event, containing a short three game tournament with teams winning by reaching a certain score first. This event is a great way for fans to learn about young players and for those players to show off what they can do.
Then Saturday, February 19th, is packed with fun events. This kicks off with a short NBA all star practice. After this is the skill challenge and then the 3 point contest.During the 3 point contest each competitor will have 70 seconds to shoot a maximum of 27 3's,each made shot is worth 1 point unless its a money ball which is worth 2 points.
"[Steph]Curry, Klay[Thompson], and Damian Lillard should participate in the 3 point contest," sophomore Arha Deshpande said.
Curry beat Mike Conley in last year's contest and fans are curious if he will defend his title this year.
After the three point contest is the dunk contest. In the dunk contest there are 3 contestants,each of them will attempt 2 dunks then the 2 contenders with the most points go to the second round and attempt a dunk,whoever scores more in the second round is the winner.
"Ja [Morant] and Zach Lavine," sophomore Daniel Olujitan said. Referring to who should participate.
"They should let Lebron and Ja and Aaron Gordon, but they probably wont do it," said Deshpande.
Ja Morant and Lebron are 2 people who are very wanted by fans to compete in the dunk contest because they are such good in game dunkers and fans just want to know what they can do in the dunk contest.
Lastly, Sunday, February 20th, The 2022 NBA All Star Game. Starting the day though, is the NBA Legends Brunch, followed by the G League Next Gem Game. Then, at 8 pm that night is the NBA All Star Game. The game will feature two team captains, these captains will draft their team from a pool of All-Stars. Both will make a starting lineup and reserves. Last year the teams were headed by Lebron James and Kevin Durant and it will be interesting to see how the teams turn out this year.
Along with this there are many speculations for who will be an all star.
"I think that klay thompson won't make it due to injuries and that lamelo will get snubbed of a spot," Deshpande said.
Either way, the NBA all star weekend is always sure to entertain and certain to bring intense and exciting moments.
About the Contributor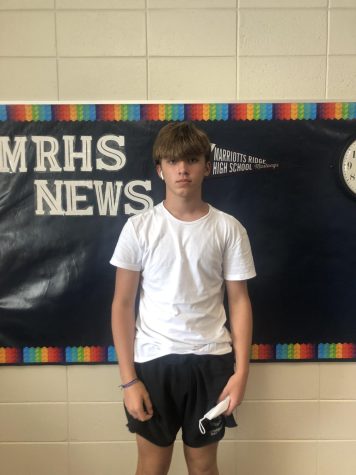 Lukas Trellis, Staff Writer
My name is Lukas. I'm a freshman and this is my first year in journalism.I like playing basketball and hanging out with my friends.