Pie a Teacher Fundraiser for Class of 2023 Class Council
The pie a teacher fundraiser event, which occurred Monday February 9th, was happily a success. The "pie-ing" took place during Mustang time in the commons with the class council running it. The staff at Marriotts Ridge were pied by the students who were chosen to pie them. Mr. Storr by Atticus Harley, Ms. Milani by Arnav Bhandari, Ms. Rizzo by Joy Ghosh, Ms. Grey by Bryan Reyes, Ms. Gado by Danielle Kesselman, Mr. Supik by Cory Meredith, Ms. Richards by Shea Kelly, Mr. Fagan by Preston Hong, Mr. Khouri by Laura Rosenberg, Mr. Sullivan by Isabel Mathews, Ms. Jenkins by Bhavana Konka, Mrs. Angell by Aiden Burnham, Officer Willingham by Will Ashbaugh, and Principal Goldeisen by Andre Duroseau.
"The pie a teacher event is for students to raise money for our senior activities next year and class council is running it. Basically students can purchase a ticket for one dollar, choose a teacher to pie, and enter their ticket in the teacher's bin. We'll do a drawing of each box, so if your ticket gets pulled from the box you get to pie the teacher of your choice in the face," junior Abby Eldridge said.
Students could purchase however many tickets they wanted for one dollar per ticket. All the money raised was put towards senior events next year.
"The money is going towards senior events next year for the Class of 2023 like the senior crab feast, prom, and more. We don't have a goal, we're just trying to make as much money as we can so we have a fun senior year," junior Kate Hennigan said.
Many of the students here at Marriotts Ridge were very excited for the approaching event. An immense amount of students showed up during Mustang time to watch the pie-ing and were cheering along.
"I was very excited for the pie a teacher event because I thought it was a very different, unique, and interesting way to raise money for the Class of 2023. It was very entertaining and I think a lot of people enjoyed it. I bought a ticket for my teacher Ms. Richards and I wished I got picked to pie her. Regardless, it was fun to watch," junior Ava Taylor said.
Not only were the students watching the event eager for it, but the members of class council who ran the event were as well.
"I'm excited for the event, I think it's going to be fun. All the teachers who volunteered to be pied want to be part of it and are happy to be participating, so I think it will be fun. I'm going to buy a ticket for Ms. Jenkins because she's a really great teacher," Hennigan said.
Overall the pie a teacher fundraiser was a success and many of the students and staff here at Marriotts Ridge look forward to it next year.
About the Contributor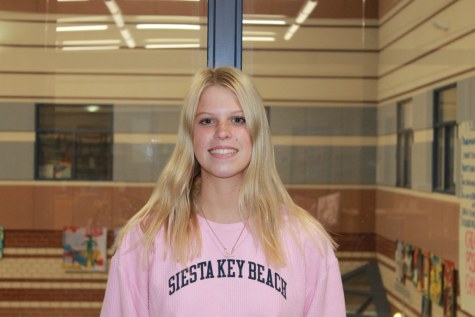 Samantha Matlock, Features Editor
Hi, my name is Samantha Matlock. I'm a senior and the Features Editor for The Stallion. I love writing and being in journalism, and outside of school,...