Mustangs Share Super Bowl 56 Opinions
Super Bowl 56 was the culminating end to another unforgettable year in the NFL (National Football League). The big game wrapped up with a winning sack from Aaron Donald giving the Los Angeles Rams a 23-20 win and their first Super Bowl title in franchise history. A regular season with lots of unpredictable upsets and a thrilling postseason, brought some of the best football fans have seen in a long time.
This year the Los Angeles Rams represented the NFC(National Football Conference) and the Cincinnati Bengals represented the AFC(American Football Conference). Both teams were filled with loads of young talent, like wide receivers Jamarr Chase and Cooper Kupp. Both of which were complimented by well experienced veterans such as offensive lineman Andrew Witworth and tight end CJ Uzomah.
For many players this was their first time under the bright lights, raising many questions about performance. This was especially true for both defenses as they are filled with a lot of young and inexperienced players.
"I thought the Rams defense did a great job holding the Bengals to only 20 points. Their offense was rolling all throughout the playoffs so it was really impressive to see the defense get big stops when it needed it most," senior Grace Hejeebu said.
There was a lot of concern for breakout star quarterback Joe Burrow the day of the game. This is only his second season in the league and first full season after tearing his ACL last year in a game against Washington. Many of his fans and previous coaches rushed to his support saying that Burrow is at his best when under pressure.
Joe Burrow is not the only quarterback that was put under the microscope this year. Rams quarterback Matthew Stafford was traded to Los Angeles from Detroit in a blockbuster move that set the Rams up for their historic run.
"I think Stafford did a good job, all things considered. Even though he threw one interception and had some questionable play options, he got it done when it counted most and hit Cooper Kupp for the game-winning touchdown," senior Arnav Kulkarni said.
Even though the Rams offense got the job done, there was a lot of criticism of the Bengals defense. After stopping an electric Kansas City Chiefs offense there was a lot of anticipation that they could replicate the success.
"Eli Apple was not the move on defense. Lots of blown coverages and separation between him and the receiver," Kulkarni said.
For some the Super Bowl isn't always about the players on the field but for the halftime show. This year was a legendary performance of 90's hip hop titans. The show was headlined by Dr. Dre and Snoop Doog featuring Mary J Blidge, Kendrick Lamar, and Eminem with a special appearance by 50 Cent. Many fans of the genre were ecstatic to see their favorite songs performed on the big stage.
If for some reason you aren't here for the game or for the halftime show, you're here for the commercials. According to a recent CNBC report a 30-second tv spot during the super bowl cost a company a steep 5.6 million dollars. This year a lot of the commercials were targeting parents and millennials. This saw the return of many famous characters and themes such as "The ETrade Baby", actors Paul Rudd and Seth Rogen, and "Mr. Evil". Viewers also saw promos for movies such as the highly anticipated "Doctor Strange in the Multiverse of Madness".
The Super Bowl, albeit is not a national holiday, sure is treated as one with all the hype and anticipation centered around the big game. This year's matchup was no disappointment with lots of high caliber players and explosive plays. As always, only one team and fan base can end the season with the Lombardi trophy in hand. But there's lots of hope that a local team like the Baltimore Ravens or Washington Commanders will bring a championship back to the Marriotts Ridge community.
About the Contributor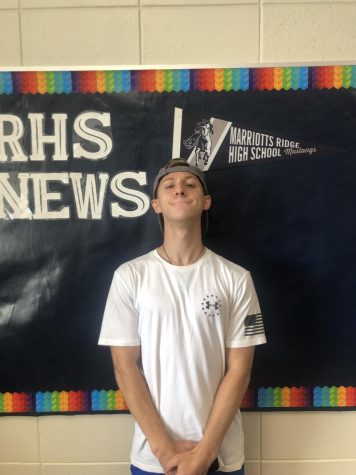 Ryan Lippe, Editor In Chief
Hi y'all my name is Ryan Lippe. I'll be the editor in chief for this year, and I'm so excited to be here. When I'm not here I'm a captain for the Cross...