Mustangs Ice Hockey Wraps Up Historical Season
The Marriotts Ridge Ice Hockey team has been excelling in their games so far this year. With new players and a county title under their belt, the team looks towards state playoffs and proving themselves as elite players.
For most, it's a team's morale that creates wins and a fully functioning team. A team's morale includes their chemistry, how they play with each other, and how well they perform when under pressure in high stakes scenarios.
"I think that we are doing a better job than we did at the beginning of the season. Obviously the guys are getting to know each other, the guys got some chemistry going," freshman Dylan Taylor said. While Taylor attributes their team's morale to the team itself, others members are attributing it to specific players.
Junior Connor Wray attributes the team morale to Sam Bartley, one of the star players on the Ice Hockey team.
"I think that the team is really following Sam Bartley as our star. I think we're going to do great with our other games," Wray said.
Every team improves from game to game, gaining new experiences and learning new plays and techniques. Winning the county championship was a big moment this year.
"Last year we won the county championship as well, but had a disappointing end in the first round of the state playoffs. So hopefully we can go back to back in the county championship and make a run for the state championship as well," senior Jackson Choi said.
The Ice Hockey team beat the River Hill team for a place in the state championship – an unforgettable moment. The Mustangs started with a 6-3 lead against River Hill, and then River Hill tied it up, forcing the game to go into Overtime. Overtime brings a lot of excitement to the game and an electric finish from the Mustangs proved they're still on top of the county.
"You know it was a once in a lifetime game. It was fun. Overall it was just a good game," senior Casey Jones said. Jones is also appreciative of his own achievements. "I scored a hat trick that night and I was really happy about it."
For seniors this is the last time that they will be able to play in a county championship game again for Marriotts Ridge. Even though it was their last time on county championship ice, the win was a great way to send it off. The Mustangs got to hoist the Serio cup above their heads and in front of their loyal fans.
"I think it means a lot. I won twice in my high school years, when I was a freshman and last year, but I think that this year means more to me because it's my last year," Choi said.
For this Hockey Game, there was a full student section back in the arena. With more fans, the excitement in the air as the game progressed, really energized the players.
"The crowd was electric when we played. Everyone was out there to support us. It was an amazing game," senior Blake Rosenthal said.
Soon to come is the state playoffs. The team is out for revenge this year and have proven they have the team to do so. A state championship would mean the world to the players and that is what they strive for moving forward.
With all the excitement from the county championship, and the ongoing excitement about the team itself, it seems that the Marriotts Ridge Mustangs are really stepping up their game and will accomplish so much more in the future.
About the Contributor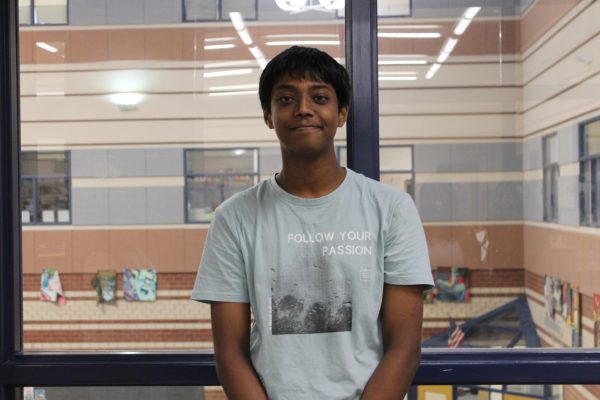 Arrshath Mohaideen, Staff Writer
Hello, My name is Arrshath Mohaideen, and I'm a junior. I'm a writer for The Stallion, and this is my third year in Journalism, which is a great class,...