HCPSS Lifts Mask Mandates
On February 24th, the School Board decided that masks will no longer be mandated in schools beginning on Tuesday, March 1st. In addition to within the building, masks are no longer required on buses or in other school operated vehicles. A large decrease of COVID-19 cases and transmission rates in Howard County and throughout the US have led to changes in CDC guidelines. Howard County is currently in a "low zone" with an average of 10.79 cases in the past seven days. As a low zone, the advised precautionary measures are to get tested if symptoms are revealed and to keep up on COVID-19 vaccines.
"As we have seen a decline in cases and transmission in our county, and the optimistic community message from the Health Department this week regarding declining metrics, I believe this is the right time to make masks optional," Superintendent Dr. Martirano said.
In further compliance with CDC guidelines, masks continue to be required in all health care settings and therefore still will be mandated in all school health rooms.
While masks will no longer be enforced within schools, students are welcome to continue to wear a face covering based on their own personal comfort level and potential health risk. As the county makes this transition to optional masking, the school board has emphasized the importance of tolerance and respect for others' decisions.
"We will remind students and staff to practice civility and respect the choices of others when it comes to masking, and I seek the community's support and collaboration in reinforcing and modeling this behavior for our children," Martirano said.
In addition to the removal of the mask mandate, the recent decision revealed that HCPSS will no longer be performing close-contact tracing within schools above a household level. To ensure the safety of its residents, the Howard County Health Department will continue to identify outbreaks and communicate with the school system about increases in cases. If a student is diagnosed with COVID-19 or identified as part of an outbreak (without being fully vaccinated for Covid-19), they are required to quarantine for five days and wear a mask for another five days upon returning to school.
As the county makes this transition, the School Board reassures the community that their priority continues to be to protect the health and safety of their students and staff. Student Member of the Board Peter Banyas extends his gratitude to the HCPSS community for their continued resilience, goodwill, and adaptability throughout these unprecedented times.
About the Contributor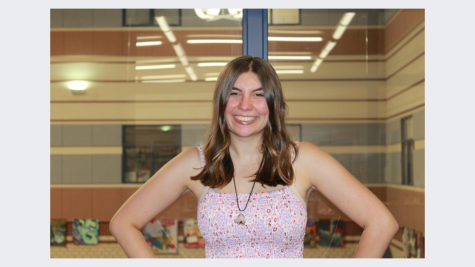 Annie Sarlin, Editor-In-Chief
Hi, my name is Annie and I'm so excited to be serving as your Editor-In-Chief this year! I'm a senior and this is my third year in journalism and I...