Flea Market Tradition Continues at the Ridge
The Mustang Flea Market, hosted by the Marriotts Ridge Music Foundation, is one of the largest fundraisers for the music program and will be taking place on Saturday, March 19th, from 8 AM to 1PM in the cafeteria. The event makes its return after a two-year-long absence.
During the fundraiser, community members can bring in gently-used items, such as clothing, household items, crafting supplies, kitchenware, electronics, sporting equipment, and toys. These donated items are sold to the general community, with proceeds benefiting the music program. Many donations are needed to make the event a success as it has been traditionally, with drop-off dates starting March 5th and ending the day before the flea market, on March 18th.
"I'm excited to see the donations people have brought in and how much money we end up making!" junior Kelly Maclean said.
The Marriotts Ridge Music Foundation has accomplished much in the past to help raise money for the award-winning music program here. Money raised will go directly to helping the orchestra, band, and choral ensembles.
"The profits from the Flea Market go towards the several endeavors of the music foundation. They may be used to buy new equipment like stands, risers, or uniforms. The money may be used to sponsor another of the many events the music department holds all year long," senior Arnav Patel said.
Flea Market visitors can be assured that their money will be well spent. This Flea Market is different from the ones in the past due to the effects of online learning and the pandemic.
"We have lost quite a bit of funding this year due to the cancellations of the winter concerts and the Jazz Cabaret. We have this fundraiser to help offset expenses for this school year," choir teacher Mr. Rawlings said.
Not only is the fundraiser needed for the program, but it is also an enjoyable tradition for all who attend.
"You never know what incredible items and knick-knacks you can find," senior Hashini Amarasinghe said. "Some of my favorite candles that I use have come from this flea market, as well as my favorite paintings hanging up in my room. The treasures you can find there are invaluable."
This fundraiser is a sustainable way to give old items new life while supporting the Marriotts Ridge Music Program. Consider contributing and participating in this important fundraiser- the event can only continue to be successful if the whole community takes a part.
About the Contributor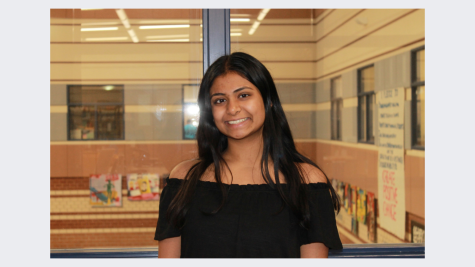 Isabel Mathews, Managing Editor & Head of Multimedia
Hey there! I'm Isabel, and I am a senior. This is my third year in journalism, and I am serving as Managing and Multimedia Editor. I'm involved in Class...