Winter Olympics Recap
The conclusion of the 2022 Beijing Winter Olympics comes with many exciting results and achievements through the work of this year's Olympic athletes. World records have been set, rising stars given their spotlights, and veterans have participated in the last Olympics of their careers, making this year's Winter Olympics one of the most eventful compared to those in the past.
Previously rising-star, now Olympic Medalist Nathan Chen has set insurmountable figure skating records, accepting his very first gold medal with results that blew his competitors off the ice. His results in the Team Event (Men's) Short Program took the title for the second highest score ever recorded in the current point system with an incredible count of 111.71 points. Most notably, his performance in the Men's Singles Short Program is what truly gave him his olympic gold medal with a world-record score of 113.97 points, defeating the two-time defending gold medalist Yuzuru Hanyu of Japan. "Nathan Chen really pulled it all together this year. His performance at PyeongChang wasn't his best, and he even said so himself in some interviews I saw, but he really redeemed himself during all of the events which I'm glad to see," junior Sophia Jacobson said.
In addition to producing multiple broken records, this year's Winter Olympics has closed another chapter in the rivalry between the US and Canadian women's ice hockey teams. The Canadian Women's Olympic team claimed a 3-2 victory over the American Women's Olympic team in their gold medal match this year after multiple alternating encounters in 5 of 6 Olympic gold medal games. Unfortunately, many of the US's gold-winning team members were unable to compete this year due to many injuries and retirements, including Kacey Bellamyand Meghan Decker who were both a big part of last olympic's gold medal run. The US Women's Hockey Team was tragically unable to perform as well as it did 4 years ago due to its lack of prominent members and overall inconsistency in the amount of time its players got on the ice. This gold-medal victory from the Canadians has certainly bolstered their strength in this long-lasting rivalry and might give them the upper hand for years to come: a well-deserved victory for their hard work and determination.
This year, many players from the National Hockey League(NHL) were unable to travel to Beijing to compete in this year's Olympic ice hockey tournament due to disruptions caused by COVID-19. The spread of the Omicron variant among the NHL's teams disrupted the NHL's regular season schedule, which made the trip to Beijing almost impossible for its players. Although athletes like Connor McDavid or Auston Matthews were unable to make it to Beijing, the US and Canadian Olympic teams' final rosters were still considered medal contenders with the US achieving a 4-2 win over Canada, marking their first victory over them since Vancouver 2010. The Canadians might've stood a better chance with their star players in the NHL, but safety precautions unfortunately prevented the NHL athletes from joining their fellow competitors out on the ice. "It's definitely unfortunate that a good number of players from the NHL weren't able to travel to the Olympics this year, but the US still performed pretty well, and the same goes for Canada. On the other hand, the women's teams also performed pretty competitively against each other because they've competed against each other in the past, but it ended up going to Canada in the end," freshman Sebastien Grimes said.
Experiencing failure is something common to all of us, especially in a sport as difficult as halfpipe snowboarding. Shaun White, five time Olympian and three time Olympic gold medalist, has unfortunately called this year's Winter Olympics the last one of his long, successful career. White's second run was undoubtedly his best, showcasing smoothly executed tricks all leading up to his impressive Double McTwist 1260, the move that he's popularized over the years. His scores were enough to bring him up to second place overall, but were soon short of making the podium after the second round of competitors had gone. Desperate for another Olympic Medal, White attempted to go for a 1440 in his last run, but was unfortunately met with defeat, his board catching the edge and leading to a wipeout. Although the final runs of his career didn't live up to his past accomplishments, his performance in the halfpipe event remains among the longest anyone's ever competed, which is why many consider White to be the greatest snowboarder of all time, despite his final performances this year: a satisfactory way to mark the end of his return and the beginning of his send-off. "Shaun White's runs were a bit tragic to be honest. His board slipped and he ended up crashing which isn't good for any snowboarder's score in halfpipe snowboarding. He did have a big influence on the snowboarding community, which is something that he'll be remembered for for a long time. Overall, this year for him wasn't the best, but his runs in the past kind of make up for it in my opinion," junior Jada Pike said.
Many exciting things have happened at this year's 2022 Beijing Winter Olympics, despite the difficulties the world may be experiencing with the spread and containment of Covid-19. However, the results achieved, legends made, and happiness spread at the Winter Olympics this year will definitely make this event one to remember for years to come.
About the Contributor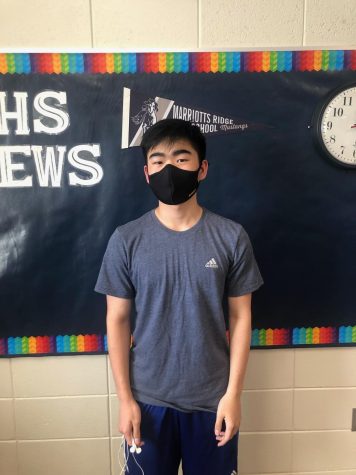 Alex Hwang, Staff Writer
Hi, I'm Alex Hwang and I'm a Sophomore here at MRHS. This is my first year of Journalism, and I may not have much experience in writing news articles,...