World Down Syndrome Day
About 6,000 babies in the United States are born with a chromosome disorder every year. On March 21, World Down Syndrome Day celebrates those with Down syndrome to raise awareness about the hereditary disorder.
According to the Canadian Down Syndrome Society, "Down syndrome is a naturally occurring chromosomal arrangement that has always been a part of the human condition. The sole characteristic shared by all people with Down syndrome is the presence of extra genetic material associated with the 21st chromosome. This happens because of an error during cell division when the egg and sperm first meet. The effects of that extra genetic material vary greatly from individual to individual."
The Canadian Down Syndrome Society answered additional questions found from the most asked questions on Google. To debunk myths and stereotypes, the group has taken to social media to communicate that people with Down Syndrome are just as capable as everyone else and have the ability to play sports, get a driver's license, and have a successful career.
In December 2011, the United Nations declared March 21st as World Down Syndrome Day. March 21st was chosen to be the day celebrating the uniqueness of the triplication of the 21st chromosome that causes Down syndrome. Created to increase awareness, the day continues to represent people with Down syndrome and the need to provide them with the same freedoms and opportunities as everyone else.
On World Down Syndrome Day 2022, the World Down Syndrome Day organization asked: "What does inclusion mean?"
"The United Nations… calls for: 'full and effective participation and inclusion in society'. But around the world today's reality is that people with Down syndrome and disabilities do not benefit from full and effective participation and inclusion in society… one reason is a lack of agreed understanding about what inclusion is and what inclusive systems look like in practice."
Now the question is passed to the Marriotts Ridge community— "What does inclusion mean?" For the students of Marriotts Ridge, inclusion should signify a recurring motif in one's daily routine and activities. In any environment, one must make sure that inclusivity is a top priority.
To promote inclusive thinking, students can look to celebrating World Down Syndrome Day in 2023. A particularly fun and easy way to celebrate is to participate in the "Rock the Socks!" movement. Because chromosomes are shaped like pairs of socks, this initiative asks for participants to wear their favorite pairs of socks to help celebrate and raise awareness. In the spirit of unity, participants post their socks on social media with the #LotsofSocks. Those with Down Syndrome carry an extra chromosome so mismatched socks are great for the day. For those interested in participating, the World Down Syndrome Day Organization's shop is a great place to find unique sock choices for next year.
Although March 21 has passed, students can continue to celebrate by raising awareness year around! The Marriotts Ridge community has the chance to empower each other to advocate for inclusion for people with Down syndrome as well as reach out and engage with key stakeholders to bring about positive change.
About the Contributor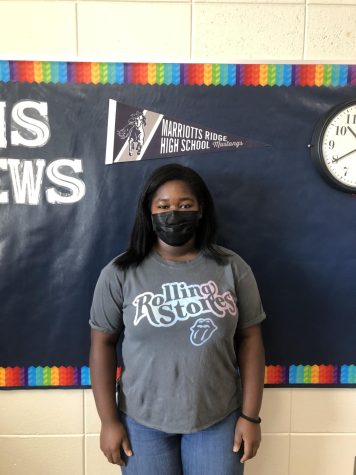 Kierstin Delk, Feature Editor
Hello, my name is Kierstin Delk. I am in Journalism III and work as a staff writer and feature editor. In my free time, I like to hang out with my friends...