Seniors Share College Application Advice with the Junior Class
Now that May 1st has passed, the Marriotts Ridge Class of 2022 officially are committed to where they will be studying for the next four years. The college application process can be very stressful juggling asking teachers for recommendations, writing essays, forming activity lists, and applying for scholarships. The Class of 2022 will be providing advice to the current juniors on how to prepare for your senior year.
College recommendations are usually one of the most important, but not as time-consuming, things to complete for your college application. These recommendations are from teachers that can expand on a student's character and work ethic in a class.
"I asked my teachers towards the end of my junior year. This is the best time to give your teachers time to agree and write a strong recommendation for you," senior Anokhi Gududuri said.
Some teachers have a list for student recommendations that fill up fast. The best time to ask for a recommendation is now, so teachers have time to write a strong recommendation that will write about being a student and person outside of school. Juniors need to remember that recommendations take time and work so students should make sure to thank the recommenders for the time put into the letter.
Applying to different universities can be very demanding of a student. It's strongly recommended for students to begin working on their application during the summer. Attempt to write a rough draft of your personal statement, activities list, and fill the forms in Naviance to remove some of the workload.
"Don't go crazy applying to too many colleges. Try to whittle your list down to 15 schools that you like and could see yourself attending. Also, make sure to apply to safety schools and schools in your range of SAT, ACT, and GPA. Talk with friends and complain about college applications that helped me get through the months," senior Annie Chong said.
When applying to a large number of colleges and universities, it is important to create a work schedule and to avoid cramming to finish applications.
"Definitely space out your applications to see when you have time in your schedule to work on them," senior Ava Wolfe said.
The process seems daunting at first, but it's all about planning and setting time aside to work on the application. Also, if a student has any questions, a great place to ask is Student Services. Counselors have helped numerous students over the years applying to college so they are a great resource to reach out and use.
Once getting into university students often wonder how they will fund their education when considering the cost of tuition. There are multiple options outside of student loans such as FAFSA, work study, dual enrollment, and scholarships.
There are many scholarships available to students, some are specifically for MRHS students that are given from MRHS PTSA and Boosters. The Community Foundation of Howard County offers scholarships to only Howard County high school seniors.
"To all the juniors out there, hang in there. You'll get hardcore senioritis because I know from experience. Remember you'll eventually receive those acceptance letters and you're gonna get some rejections, but you're going to get through this," Chong said.
Good luck to all the Marriotts Ridge juniors! Being a senior is a lot of work and can be stressful, but the Marriotts Ridge community makes it an unforgettable year with all the fun senior activities.
About the Contributor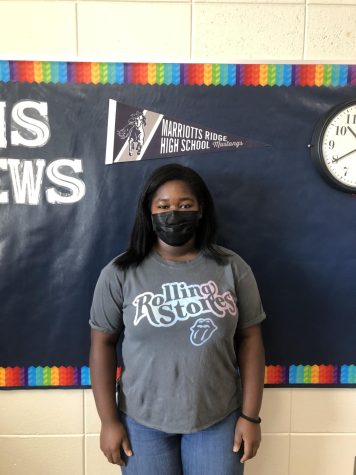 Kierstin Delk, Feature Editor
Hello, my name is Kierstin Delk. I am in Journalism III and work as a staff writer and feature editor. In my free time, I like to hang out with my friends...