Ridge Baseball Season In Review
The Marriotts Ridge baseball team finished the school year with an 11 and 7 regular season record. The team put together an 8 and 1 start, marking a fantastic run for an under the radar team. The first game of the season was against Reservoir High School, with senior Nick Ruso throwing 105 pitches, going 7 innings, and giving up just one run. Also in that game, junior Griffon Russell hit one over the left field fence, marking the teams first home run of the season.
Big mid-season games were an extra innings loss against River Hill and resulted in back-to- back walk off wins. The first of these wins was against Mount Hebron, where freshman Jonah Obitz sent a double into the left center gap to end a heated game. The second of these games was against Atholton, where senior Brady Fenlon knocked one into left and won his team the game. The team also had a 19-2 win over Oakland Mills where junior Trevor Grams hit two home runs in the same inning.
Following these triumphs, the team entered playoffs where Marriotts Ridge claimed the one seed in the region, giving them a bye into a second round game against Hebron. Tensions were high and coach Eckert gave the start to Junior Adam McFarland. A pitchers duel left the game at 1-0 Marriotts Ridge going into the 6th. A couple bad pitches and well placed hits from the Vikings gave Hebron a 5-1 lead at the end of the inning. The game finished at 6-1, an early exit for the Mustangs, but against a good Mt. Hebron team, "I think we just left a lot of runners on base, and we didn't press and increase our lead when we had the chance," said junior Luca Obitz.
This year, the Marriotts Ridge team consisted of five seniors, ten juniors, one sophomore, and one freshman. Only one senior started in the field, and a good JV team filled in the rooster when needed. With such a young team there is a lot of potential for the Mustangs moving forward, "I think we have a very bright future; we're a really young team… it just depends who steps up.. A lot of names come to mind for who could do it, which is good since it means there's more of a chance it happens," said Obitz.
Following the playoffs were the all-county mentions. Nick Russo locked it down on the mound all year and earned himself a spot of the all-county first team. He boasted a 1.05 ERA, leading the team in difficult games. Senior pitcher Chris Savage also claimed a second team spot and so did freshman Jonah Obitz with a .368 average and .516 slugging percentage. Other honorable mentions are seniors Brady Fenlon and Brandon Lake as well as junior Trevor Grams, who all helped to lead the Mustangs' offense.
The team learned a lot about how to play together and what they need to improve on this offseason. And if everything comes together, next season will certainly be one to remember.
About the Contributor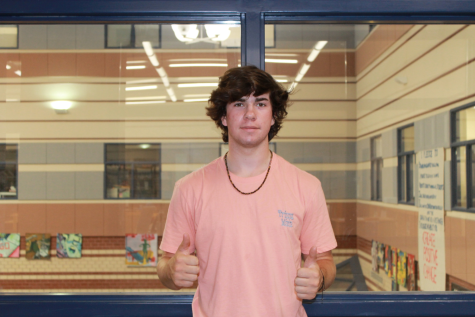 Zach Vernick, Copy Editor & Sports Editor
Hi, I'm Zach, this is my third year in journalism and I am the copy/sports editor. I don't have a doctorate in English or anything, but I did pass...