MRHS Softball Brings The Season Home
This was an interesting year for the Marriotts Ridge softball team. With only 3 seniors, the team was very young, but still full of talent. Finishing was a 5 and 12 record, this was a year to build for coach Parson and his team.
The first game of the season was against Reservoir, where the Mustangs faced off against a future UMD pitcher. Although they ended that game with a loss, they came back to beat Oakland Mills 21-1 in their next outing. These up and down games were a theme for the Mustangs throughout the season. 5 of their 12 losses came from games that were within 3 runs. Although disappointing, this shows the potential moving forward. On the other hand, a lot of their wins were hard-fought, and they capitalized when playing bad teams, winning multiple blowout victories. Another great mid-season moment came when junior Sage Spittler hit a home run.
With only three seniors, they had to step up and lead a younger team. They did just that, Lauren Tolle led the Mustangs on the mound for many of their games and Ashley Theimer helped the underclassman in the outfield. Lastly was Sarah Fan, who played varsity softball all four years of high school. She hit first in the lineup throughout the season, leading a lot of the Mustang's offense with her bat and high spirits.
As for playoffs, the first round was against Westminster. This was going to be a tough game, but the Mustangs were ready. Their offense took off, scoring 13 runs and running through a team that might have posed a first-round exit. Next was Howard, a top team in the county. Tolle took the mound and kept a strong Lion's offense in check at the beginning of the game. A few missed balls in the field and pitches that just caught too much of the zone allowed Howard to gain a lead. Although the Mustangs couldn't recover, some post-game celebrations and hopes for next year brightened the mood. In that game, 2 freshmen, 2 sophomores, and 2 juniors all started in the field. Coach Parson expressed his positive outlook after the game and referenced the strong freshmen class coming in.
"My favorite part was getting to play with new people and our pasta parties!" said Fan.
Sophomore Juliana Roberts agreed, "Going to pasta pirates and being with my teammates was the best part."
Although the team didn't finish with the record they were hoping for, spirits are still high for the coming seasons. This team has a ton of chemistry and it will be fun to see where they go in the future.
About the Contributor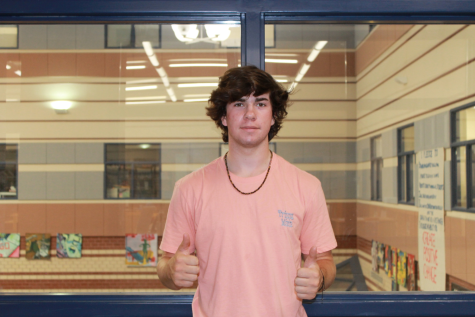 Zach Vernick, Editor-in-Chief
Hi, I'm Zach, this is my fourth year in journalism and I am the editor-in-chief. I don't have a doctorate in English or anything, but I did pass 8th...