MRHS Starts Off Their Fall Sports Strong
A new fall sports season has started at Marriotts Ridge; teams have begun playing and hopes are high for the coming season. Sports are a big part of the school community, and attending and playing in games brings students closer.
"Going to the games and being with my friends brings us closer and builds such strong connections," junior Navneet Kunadi remarked.
Kunadi shares that football games are his favorite to attend, and the Mustangs got off to a good start this year. Playing a close game against Howard where they held the lead in the first quarter and just came up short of a comeback in the fourth. Even at an away game, the Marriotts Ridge student section was out in full force. With a blackout theme and enthusiastic cheers, the students helped to keep the Mustangs in the game and had a great time doing it.
"The atmosphere is ridiculous, it's an amazing energy… It's great to be there and just a lot of fun watching the games," junior Benji Nagiel said.
The second game against Hebron was just as energetic. The Mustangs put up a great fight, only losing by three in a very winnable game.
"I think we have had a great season so far, and we just need to continue playing well… we just need to keep putting in work and hopefully we will start winning," junior linebacker Jackson Komin said.
Lots of teams at Marriotts Ridge have also had great starts to their seasons, many of them going undefeated. These include varsity and JV volleyball, both JV soccer teams, varsity girls soccer, and golf.
Senior volleyball captain Vivian O'Brien commented on the team's great start.
"I think as long as we control our side of the net and bring energy to each game we can do a really good job this season. We are working hard everyday and I can't wait to see how far we grow," O'Brien said.
The volleyball team has played six fantastic games so far. One of these includes a win against Hammond and their UNC commit hitter, where the Mustang's defense really shined. The other games were all 3-0 blowouts against Liberty, Long Reach, Old Mill, Oakland Mills, and most recently Glenelg. The team is super close and a lot of their success on the court has come from their chemistry off of it.
"We are always supporting each other during games whether we are on the court or off the court. We want the best for each other and if someone makes a mistake we all work to make sure we are lifting them up," O'Brien explained.
The soccer teams at Marriotts Ridge are also starting off strong. Soccer has been a major program at Marriotts Ridge in past years, and the teams have been working this summer to prepare for the upcoming season. Coming off their County Championship win last year, the girls team is off to a hot start. Cleaning house against Hammond in the first game of the season, the team took home a 9-0 win. They followed it up beating Long Reach, Oakland Mills, and Howard all in blow fashion. A close overtime game against Glenelg caps off the teams undefeated start. Senior Giavana Liberto boasts twelve goals in just the first six games, hoping to lead the Mustangs to another championship. As for the boys, a close loss against Hammand in their first game was a rough start, but they fired back against Long Reach in a 5-1 victory. Coming back from an early loss that well shows the team's tenacity as they ride that momentum into the middle part of the season.
The golf team at Marriotts Ridge also made an early statement. Playing a close match against Glenelg, the girls team narrowly beat the all time county scoring record by one stroke. Senior and captain Alana Alexander-Giles led the charge, shooting even par.
"It was really amazing to do it with a team I have so much love and respect for, and I just hope that we can break it again so the record stands even longer," Alexander-Giles said.
Boys golf also dominated early, beating their competition by an average of 30 strokes, and extending their win streak to 88 in-country matches, which is over nine years.
"It's really great. I like competing with everybody, and we just have a lot of fun together," Alexander-Giles said.
All the teams at Marriotts Ridge share this compasion. Playing together every day and performing as a team during games builds connections. Hopes are high for what's to come and students are ready to back their teams at games.
About the Contributor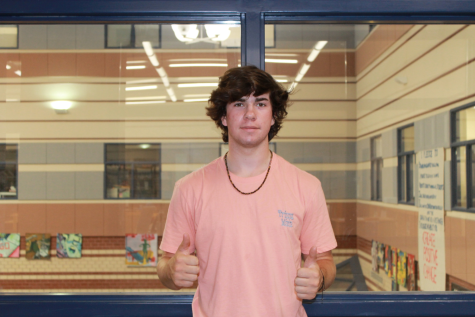 Zach Vernick, Copy Editor & Sports Editor
Hi, I'm Zach, this is my third year in journalism and I am the copy/sports editor. I don't have a doctorate in English or anything, but I did pass...