Mustangs Dance Through Homecoming
On Saturday, October 15, Marriotts Ridge Mustangs attended Homecoming, celebrating a new school year and revitalizing school spirit. Last year, due to the Coronavirus pandemic, the dance floor was extended outside and everyone was required to wear a mask. However, as we return to normalcy, Homecoming has reverted back to its long-standing traditions, and the restrictions made last year have been undone.
Mustangs reflect on their Homecoming experiences, sharing their favorite memories while also dishing out suggestions for future dances.
"I think this year's Homecoming is better than last year's because last year, everyone was wearing a mask and you couldn't tell who was who," sophomore Ragib Ahanaf said. "You also had more options this year."
When sharing their favorite Homecoming experiences, most students said that they really enjoyed having the opportunity to spend time with their friends and let loose for a night. Rather than slaving away at homework, students spent the night dancing and socializing, a change that many welcomed.
"The excitement tonight was phenomenal," freshman Christopher Chung said. "I'm so glad my friends came to join me."
For seniors, it's their last year to experience Homecoming, and senior Eunice Khor shares what this final ride means to her.
"It's bittersweet," Khor said. "Even though it's my last year of Homecoming, there's still many more experiences to come. I'm both sad and excited."
A big aspect of Homecoming is the getting-ready process. Students shared the preparations they made to look their best and gave a quick run-down of the plans they had that day.
"My day was actually really busy," senior and vice president of the 2023 class council Ethan Au said. "I had two sports games earlier that day so when I got home, I quickly took a shower, dressed up, and left. It was really chaotic."
Khor offers another perspective, sharing the day she had and the preparations she made.
"I had an interview, so I couldn't really prepare traditionally," Khor said. "I just did the standard stuff—makeup, hair, and dressing up. I didn't feel that rushed though because I'm not really meticulous about that kind of stuff."
Although many students enjoyed their Homecoming experience, there were mixed feelings about this year's DJ. While some enjoyed the music being played, others expressed their disappointment with the song selection.
"The DJ was better last year," Khor said. "The songs the DJ played this year were… interesting."
Senior Sophia Moylan echoes this sentiment and shares her own criticisms of the music choices.
"The DJ was playing the Top 100's, but he was playing the worst ones," Moylan said.
While some were disgruntled with the music that was played, others appreciated this year's picks.
"I liked the music that he played," sophomore Soraya Medina said. "It was very fun and everyone enjoyed the energy."
Sophomore Katelyn Honda shares her thoughts on the music played during the dance.
"It personally wasn't my music taste," Honda said. "I'd like to see newer stuff that everyone actually listened to."
Medina also offers her opinions on the food served during the dance.
"I really loved the snow cones," Medina said. "That was a really good idea. They also had pizza, which I mean, it's pizza, but it could've been better."
The Student Government Association (SGA) is mainly in charge of organizing the Homecoming dance, and they take the students' voices into account when making decisions for future years.
"Every year, we discuss how Homecoming went, what people said about the dance, and use the feedback to make it better for the next year's dance," junior and SGA publicity secretary Brynne Mellady said.
Overall, the dance was a huge success among students, and it was a memorable night full of dancing, spirit, and love.
About the Contributor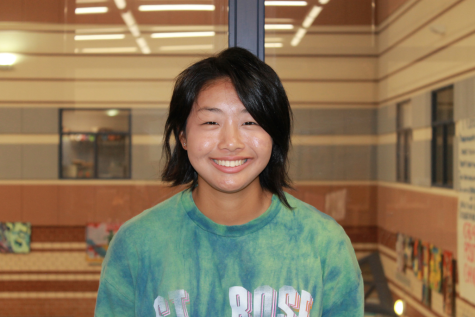 Annie Wang, Overflow Editor & Staff Writer
Hi! My name is Annie, and I'm a senior. I'm involved in Marriotts Ridge's speech and debate team, and I play the french horn both inside and outside of...