Class of 2023 Shell-ebrates Crab Feast
From the red shirts to the smell of seafood, the annual Senior Crab Feast is a beloved tradition at Marriotts Ridge. The Crab Feast consists of enjoying crabs and other food with friends, games, and music. This year's games were cornhole, giant Connect Four, ping pong, foosball, and Jenga. A major hit at the event this year was the newly added cotton candy stand. At the feast, students created memories they will cherish.
"I'll never forget dancing to the Cupid Shuffle while eating cotton candy," Savi Peris said.
Students are eager to be a part of traditions for their last year of high school.
"I went because it's a senior tradition, and I want to make time for traditions even though I am busy with college apps. It is important to have time away from school work," Sofia Romero explained.
At an event that mainly consists of eating it is beneficial to have other activities so that after students are finished with their crabs they'll be able to do other fun things with friends. Skyler Owens explains her favorite game that night.
"I liked playing ping pong because I'm good at it and it's fun to do."
This event was one of the first events of the year and marks the beginning of many senior celebrations. There were a multitude of things that seniors were excited for, especially the crabs.
"For me, it was definitely the crab. I'm a big seafood person, and having a social event built around eating seafood is like a dream come true for me," Zenith Dansie explained.
With an event mainly centered around food, students definitely had their favorites. There were a few other hits that are a runner up with the famous crab.
"The cotton candy was so fun to eat. It was all swirly and chewy, truly a classic." said Peris.
Eating the food, talking with friends, listening to music and maybe occasionally breaking out into dance definitely makes events like this worthwhile. This year's music was a combo of the current big hits: such as It's About Damn Time by Lizzo to classic 2000s hits that were once popular with the class of 2023. Overall, from the music, to the crab eating, to the games, this year's crab feast was an absolute hit.
About the Contributor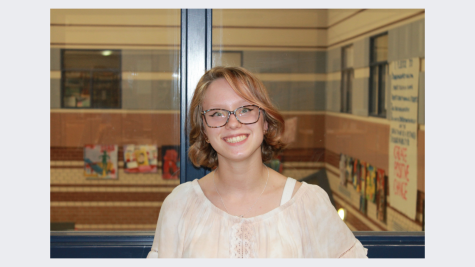 Brooke Mosher, News Editor
Hey there. My name is Brooke Mosher, and I am a senior. This year, I'm the news editor for The Stallion, and this is my fourth and final year in journalism....