Daydreaming for "Don't Worry Darling" Cast to Treat People With Kindness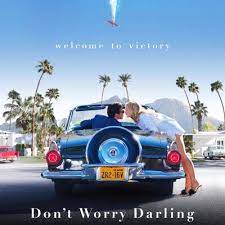 On September 23rd Don't Worry Darling, one of the most anticipated movies of the year, opened in theaters to mixed public reviews. Despite the reviews, a reputation had begun to follow the movie as star Florence Pugh had been dropping subtle hints that something had been brewing behind the scenes. Students share their opinions on the drama surrounding the movie.
Don't Worry Darling is a newly released psychological thriller directed by Olivia Wilde that follows a couple living in the idyllic town of Victory, California. Jack Chambers, played by Harry Styles, goes to work every day while Alice Chambers, played by Florence Pugh, is expected to stay home and prepare for his return. The women are encouraged not to ask questions about their husband's work, though a series of events causes Alice to question the life she's come to know.
The drama first began in July of 2022 when fans noticed that Pugh was not promoting the movie as heavily as she had projects in the past.
"There's been very minimal content on Florence's social media about Don't Worry Darling. It's like every time Olivia [Wilde] would post something, I would go look and there's nothing," senior Emma Donahoe said.
Over the course of the year, more drama came to light, with everything coming to a head at the Venice Film Festival in September of 2022. Pugh skipped the main press event involving the cast, as she was not doing any press for the movie, and during the four-minute standing ovation, Pugh did not make eye-contact with Wilde. Fans took this as a sign that something deeper was brewing.
Director Olivia Wilde and actor Harry Styles were, by that point, in a public relationship. Sources alleged that on-set tension between the two had led to intimate moments that delayed filming. However, by the time the Venice Film Festival rolled around, they had not been spotted together in public for quite some time.
"There was so much tension on the panel, it was painful to watch. Harry and Olivia weren't talking to each other at all," Donahoe shared.
Fans were expecting Wilde and Pugh to become quick friends given their similar public status and image, however, during filming, rumors came out that things were less than friendly between the two.
"Harry and Olivia were in a relationship, which created a lot of tension between Flo[rence] and Harry. So yeah, what could have been BFFs turned into enemies," senior Kelly Maclean said.
Despite the drama that followed the movie, fans were still flocking to the theaters to see it. Making nineteen million dollars opening weekend, Don't Worry Darling solidified its place in cinematic history by numbers alone.
"It was incredible, honestly. Florence really carried the whole movie and she never fails to impress with her acting," junior Olivia DeVito shared.
The feud helped to bring fans to the theaters, in some instances.
"[The drama] made me want to see it more, to be honest," Maclean explained.
Fans, however, began to speculate if the feud was as dramatic as it had been made out to be. At the Venice Film Festival, it appeared that Harry Styles spit on the lap of co-star Chris Pine. Chris Pine's management has since released a statement that denied this.
"I feel like [the drama] was really fluffed up for the media to bring more attention to the movie," senior Kate Ford said.
Other students shared the same sentiment that the drama was partially drummed up to increase media attention towards the movie.
"The whole thing with Harry spitting on Chris's lap—I feel like they were just trying to pump it up as much as they could, make as much drama so people were talking about it," Maclean shared.
Many students say the drama hasn't greatly affected their opinions of those involved, though most sided with Pugh as the drama unfolded. Don't Worry Darling is currently still in theaters worldwide, and students have been recommending the film non-stop to others.