Marriotts Ridge Food Drive: Student Donations 'Drive' Competition
As Thanksgiving approaches, Marriotts Ridge's SGA held their annual Thanksgiving food drive from Tuesday, November 1st, to Monday, November 7th. Though the drive is for a good cause, competition arises between the first period classes with the grand prize being breakfast provided by Marriotts Ridge's own Culinary Arts program.
Marriotts Ridge donated 2189 pounds of food and $3570, all given by students and teachers who were determined to help those in need through the Howard County Food Bank. The winners of the food drive were announced and the top classes were Mr. Hong, Mr. Shim, and Ms. LeChevet. Marriotts Ridge SGA and the seniors in general played a large part in planning this event and advertising in school, "SGA created an online ad and then the first period teachers promoted it in their classes… the students and aides did most of the collection and advertising," Media specialist Ms. Rashid said.
Many students were appreciative of the prize up for grabs, but wanted to donate for a good cause regardless of the reward, "A part of it is almost the competition to see who donates the most…but the main goal is to just help out other people," senior Alan Zhao said.
Many students went the practical route by donating large bags of non-perishable food that would add to the donation total as well as lead their class to victory, "I [had] already donated a 25 pound bag of rice and I'll see if I can get around to donating some money as well," sophomore Aadit Shah said.
"As someone who works in the HCC Food Pantry, I see the positive impact having regular access to food can have on college students. Without these food pantries, a lot of students at HCC work just for basic necessities… instead of using that money for their education," senior Megan De Graw said. Many students did not need the motivation of a prize to donate, and gave food simply to help people in need.
Though students have raised an incredible amount of food as well as money, revenue was down from previous years, "It was down from last year, but I think the last two years we've had a huge uptick in generosity because of the economic impacts of Covid and I think we're in a different economic environment right now… we raised a lot of money and donated over 2000 pounds of food but we couldn't keep topping ourselves," Ms. Rashid said.
Though donations were slightly down this year, students still made a huge impact by donating to those in need. The kindness and generosity of Marriotts Ridge has risen in the spirit of Thanksgiving by donating thousands of dollars and bins full of food.
About the Contributor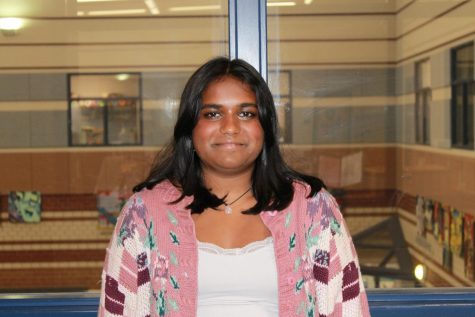 Sami Janakiraman, Staff Writer
Hi, my name is Sami! I am a sophomore in my first year of journalism and I am a writer this  year. I enjoy reading, cooking, and I play tennis outside...