Students Get Ready to Gobble Till They Wobble
The Marriotts Ridge Mustangs are imbued with Thanksgiving spirit and look forward to the upcoming break. Many will be reuniting with their relatives for a hefty feast, expressing their thankfulness through various means. Students share what they're most anticipating and the ways in which they'll celebrate.
Sophomore Grace Choe describes a tradition she and her family partake in every Thanksgiving.
"I go over to my uncle's house, and all our relatives gather," Choe said. "It's like a potluck, so we all bring food… it's like a mix between Korean food and traditional Thanksgiving food."
Other students will be reuniting with their family members over the Thanksgiving break as well.
"For the last 17 years of my life, I've been going to my uncle's place up in Pennsylvania," senior Joy Ghosh said. "It's nice and it's secluded and we celebrate Thanksgiving there."
With the lifting of COVID-19 pandemic restrictions and the return to in-person learning all happening within the past year, there are many aspects of life for students to be grateful for, whether it's the people who've supported them through these difficult times or their immune systems that have fought hard to keep them healthy.
"I'm most thankful for my family and friends," senior Charita Sandoze said. "They've always just been there for me. When I'm in trouble, I can always count on them for support, when I'm sad, they always cheer me up, and when I'm bored, they always get me to do stuff."
Freshman Abby Allen offers her perspective and relates it back to the Covid-19 pandemic.
"This year, I would say I'm thankful for all the health everywhere," Allen said. "There's no more Covid, and we lost mask mandates at school, so we can talk to one another face to face. I'm also thankful that a lot of people in my family haven't had Covid."
Allen also describes the activities she and her family take part in every year.
"My normal family tradition for Thanksgiving is a family gathering," Allen said. "I live away from a lot of my family, so I really enjoy cooking together, eating together, and just hanging out and watching movies."
Students further discuss the food they eat during Thanksgiving and their favorite dishes.
"We eat traditional, you know like turkey, mashed potatoes, cranberry sauce, pumpkin pie, that sort of stuff," Ghosh said. "My favorite dish is gravy."
When asked about ways through which they show their gratitude, students give a variety of answers. From lending a helping hand to working hard in academics, there are a multitude of ways gratefulness can be communicated.
"My way of expressing thankfulness is helping out," Sandoze said. "I always help out my mom with things like cooking and cleaning. With my dad, I try to listen to him more and do things with him. I try to be there for them like they're there for me."
Senior Rotimi Oni shares how he puts in more effort toward the activities that the people around him help him through to show his gratitude.
"I express my thankfulness by doing my best in my college essays and whatnot, making sure I submit everything on time," Oni said. "I just feel like without people around me helping me get through it, I'd be drowned in how much I have to do, so because they helped me out, I want to make sure that I put out my best work too."
Mustangs have a diverse array of Thanksgiving traditions and have found ways to communicate their love and appreciation through various means. With Thanksgiving rolling around the corner, it's yet another reminder for students to be thankful for their countless blessings in life.
About the Contributor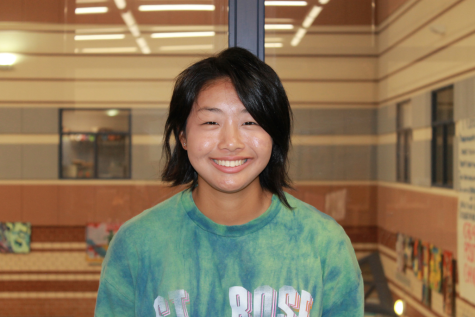 Annie Wang, Overflow Editor & Staff Writer
Hi! My name is Annie, and I'm a senior. I'm involved in Marriotts Ridge's speech and debate team, and I play the french horn both inside and outside of...