2022 Cricket World Cup Recap
Hosted in the Middle East for the first time in history, the eighth ICC T20 Cricket World Cup has proven to be exhilarating for all involved, causing hundreds of people to travel worldwide for this event. As cricket is a game loved by many, Marriotts Ridge students have been eagerly awaiting this tournament for the past two years.
Although many at Marriotts Ridge have been anticipating the World Cup, it didn't take long before students began to struggle to make time to watch this year's T20 matches. As the tournament was held in Qatar, the drastic time zone difference made it so that matches were streamed live in America in the middle of the night. Already trying to juggle school work alongside a proper sleep-schedule, most couldn't find a way to watch this year's tournament.
Such is the case of Shreyas Cherekar, a sophomore at Marriotts Ridge. Having played cricket since the age of eleven, he had been particularly enthusiastic about the World Cup, but was quickly disappointed at the prospect of not being able to watch it. ¨If I could [watch the tournament] I definitely would," Shreyas stated.
The tournament started off on an uneasy note. Certain teams entered having gained new, talented players, but others had to join without some of their best. With so many good teams, there was no telling where the Cup would go, creating a build-up of excitement and suspense for both viewers and participants alike.
The Pakistan team in particular was forced to replace star player Fakhar Zaman, after worsening a knee injury in a game against the Netherlands, with Mohammad Haris. and only ever participated in one T20 before this. Usman Qadir, a player also suffering injury. Zimbabwe, on the other hand, had not undergone any severe changes. Pakistan's loss against the Zimbabwe team came as no surprise, and some speculate that it was due to a poor lack of coordination between new and old team members.
However, that wasn't the end for Pakistan. In an epic turn-around for their team, Pakistan managed to just nearly beat Bangladesh by five wickets, miraculously qualifying for the semi-finals.
Pakistan wasn't the only team that played well. New Zealand won a game against Ireland by thirty five runs, England was victorious over Sri Lanka, and India was finally able to proceed after the Netherlands beat South Africa. With these winning teams qualifying for the long anticipated semi-finals, the ranks were definitely promising. All four had shown notable commitment and dedication towards the Cup, and were not willing to back down without a fight.
After an incredibly close-cut game with New Zealand, Pakistan surprised supporters of both teams with their win, and advanced to the final. While Pakistan achieved their place in the final, India suffered a severe loss against England, losing to a devastating 10 wickets.
"I was really surprised. They were playing quite well even though their key players were injured," sophomore Safal Mahajan explained, "but [In this match] their bowlers were unable to pick up even a single wicket."
On the 13th of November, Pakistan and England had their final, a stressful game. Both teams had worked hard to gain their place in this title match, and they both played incredibly well, albeit past a bit of struggle. In the end, England was able to claim the 2022 Cricket World Cup.
Each and every team participating in the World Cup played to the best of their ability, overcoming numerous obstacles along the way. Although many teams lost, their performance in this year's tournament was astounding nevertheless, and they could leave honorably.
About the Contributor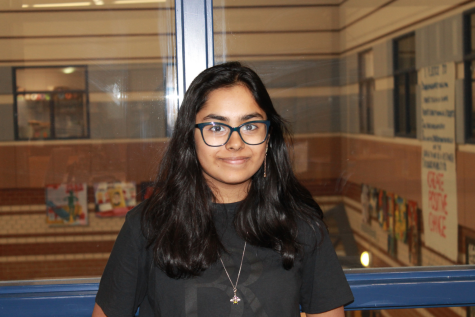 Zoya Ali, Staff Writer
Hi! My name is Zoya, and I'm a sophomore at Marriotts Ridge. This is my first year in journalism, and I am entering as a writer. I joined journalism...