Mustangs Debate Their Way to Victory at George Mason
On the weekend of December 3-4, Marriotts Ridge Mustangs competed at the annual George Mason University Patriot Games Classic, a national speech and debate tournament. Senior speech member Therese Kim broke to (a common term for "progressed to" in speech and debate) finals, public forum debate team seniors Jonathan Lin and Vedant Patel broke to double-octofinals and public forum debate team senior Sai Matukumalli and junior Vardaan Srivastava advanced to octofinals. The team and club sponsor, Mrs. Jennifer Goldszmidt, reflect on the competition experience and share their thoughts on how it went.
For students who were competing for the first time, it was a pretty positive experience overall, though they look to improve in the future.
"I feel like if we would've prepped more, we would've done better," freshman public forum debate competitor Soha Mahapatra said. "But I think for our first time, I'm happy that we at least kind of did well in some rounds."
Sophomore and first-time speech competitor Kelly Liu discusses her first tournament experience and shares what she hopes to improve on next.
"I thought I did well because I was scared I was going to get up there and just freeze," Liu said. "But I feel like the presentation could've been more because to a certain extent, I was still thinking about just getting the speech out… I feel like it could've been more engaging with the audience."
Students who progressed to later rounds received the news with great enthusiasm, but each of them feel differently now that they've had some time to reflect on their experiences.
"It was a very pleasant surprise," public forum debate competitor Jonathan Lin said. "Both of us [he and senior Vedant Patel] hadn't done debate in a few months, so it was pretty nice to break. It was a national tournament, so we knew that the caliber of people there was definitely going to be higher than BCFLs [local tournaments]… it was just really exciting to find out that we broke."
Similarly to Lin and Patel, breaking was a happy surprise for speech competitor Therese Kim.
"I was very surprised, especially about the final round," Kim said. "I think the biggest thing was that I had fun and even though I was really nervous, as soon as I started my speech, I knew that I knew the words and just wanted to share my ideas with all the judges and other contestants."
Public forum debate competitor Sai Matukumalli had a slightly different take on the breaking experience and gave his thoughts on it as someone who has broken before at this tournament.
"In the moment, it was so, so exciting," Matukumalli said. "We [Sai and his partner, Vardaan Srivastava] were really surprised that we had broken, but we had broken last year and had gotten to about the same spot. It's still an accomplishment, but I feel like our surprise was a little bit overdone in the moment."
Sophomore and public forum debate competitor Prakruth Aachar discussed the differences between competing in-person and virtually, as speech and debate competitions for the past two years have been held through online platforms.
"Online tournaments… no one takes anything seriously," Aachar said. "This is basically the same thing with online school right? Everyone just turns off their cameras and goes to bed."
Debating online was especially difficult because evidence, most commonly referred to as cards in public forum debate, were hard to exchange. There was also a very stark disconnect between the two opposing teams that made the rounds awkward and clunky.
"It was just much more different because asking for cards is kind of a more complicated process, just because you weren't in the same room as them, right?" Aachar said. "And it was also just so removed that you didn't really feel like you were arguing, you know. It was kind of just like yelling at a computer screen."
Although the competition was fun for students and all they had to do to compete was sign up and pay the fee, planning the event was a strenuous process that fell onto the shoulders of the team captains, as well as their club sponsor, Mrs. Jennifer Goldszmidt.
"It was my first time doing it, so I actually relied a lot on the students," Mrs. Goldszmidt said. "I just had to sort of run around after them and make sure everything got approved appropriately."
Overall, students had a great time, and the tournament was a huge success—the team not only did a stellar job competition-wise, but also had the opportunity to finally meet one another and bond. Because the team is separated by event with each event meeting on a different day, opportunities to interact with one another are scarce. This tournament provided the rare opportunity for everyone to connect, allowing the team to become a singular unit.
About the Contributor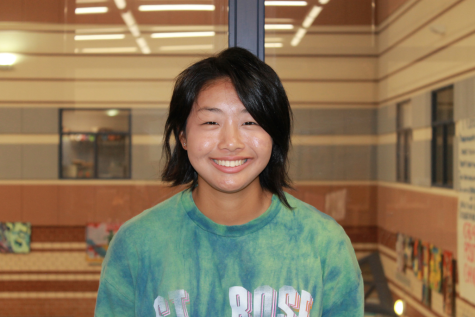 Annie Wang, Overflow Editor & Staff Writer
Hi! My name is Annie, and I'm a senior. I'm involved in Marriotts Ridge's speech and debate team, and I play the french horn both inside and outside of...