Marriotts Ridge Celebrate December Holidays
The Marriotts Ridge Community celebrates the December holidays through a variety of unique traditions. December marks a few of the most favorable annual holidays such as Christmas and Hanukkah. Within this holiday season, there's a sudden peak in all sorts of family traditions, sparking holiday joy.
"December is the time of the year where it just feels right because of all the holiday cheer and the excitement and preparation done for everyone's holiday," junior Angelina Spellen says.
Marriotts Ridge students know this holiday well, from the tales of Rudolph the Red Nosed Reindeer and How the Grinch Stole Christmas – Christmas. Through the passionate decorations of the evergreen tree doused in red and green and its sacred ornaments to the blinding LED lights, and blowups of snowmen outside everyone's home; this well-known holiday is celebrated on December 25th.
Spellen continued on, saying, "Immediately after Thanksgiving ends, my mom brings out all of her Christmas decorations from hiding, but it's honestly so crazy because it's like Thanksgiving just ended and it's still November!"
Decorating for Christmas is an advent activity of its own, starting even weeks prior to December.
As Christmas Day approaches, the days before Christmas (especially Christmas Eve) aren't ones to be left in the shadows, as they too, are celebrated in their entirety.
"On Christmas Eve, my family and I compete in a competitive sport of 'who can make the best looking gingerbread house,' and whoever loses…well, it doesn't end up well for them," Spellen said.
Along with the fun tradition of Spellen's competitive gingerbread house creations, people often take this opportunity to travel to more winter-esque places, or to other family members for Christmas, taking the advantage of the week-long winter break.
Sophomore, Ariana Calin said, "Usually, [my family and I] go skiing for Christmas, but this year we're actually planning to go to Austria, where it's warmer."
On December 25th, presents are ripped open, and the sounds of gasps and joyful screams fill the air, but presents aren't the only thing celebrated on Christmas, as there's many family traditions that are fulfilled on this joyous day. Calin spoke of her own culture's Christmas traditions.
"My family and I have this Romanian tradition, where we just make a lot of Romanian food for this big Chrimas feast, like cognac where it's identical to a swiss roll."
The eight days of Hanukkah, also known as the Festival of Lights, is another important holiday celebrated in december. Starting on Sunday, December 18th and ending Monday, December 26th, Hanukkah is celebrated with the nightly lighting of the menorah, games and activities such as spinning the Dreidel, traditional foods (mainly oil-based) to feast on and gift exchanging.
Many traditions include family and friends, "Some of our traditions are eating donuts, every person lighting their own menorah, and spending at least one night with our family and friends…I decorate by putting the Star of David around the House and blowing up a dreidel outside," junior Rachel Harper said.
Traditional Hanukkah decorations are laced with colors of white and blue, belonging to the Israel flag. Decorations for Hanukkah can vary from string lights to even putting out blown up dreidel outside like Harper.
The celebration doesn't just end with Christmas and Hanukkah, as the holiday cheer can be attributed to Kwanzaa, an annual African American holiday through December 26th to January 1st. The week-long period of Kwanzza is dedicated to spend time in reflection and connection as it involves joyous singing and dancing, African music, honoring ancestors and eating traditional African food.
Through December, we celebrate everyday with holiday joy, and spend that time with family and friends.The memories created on holidays with engraving traditions are like nothing else as the holidays always bring out the best in everyone.
About the Contributor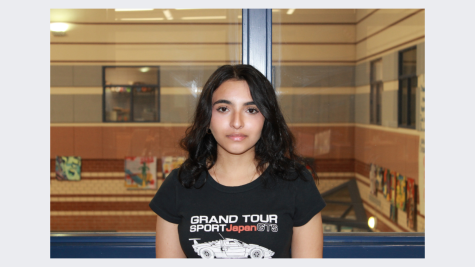 Mnayle Mohammad, Staff Writer
Hi, my name is Mnayle, and I'm a junior. This is my first year in journalism, and I'm a writer. One of the main reasons I joined journalism was because...