MRHS Students Get A Taste of Different Cultures
With the holidays quickly approaching, the Marriotts Ridge community shares recipes and traditional foods they like to make during the festive season. Students share what foods are meaningful to them and how they bring them closer to their family and culture.
The holidays are about gathering with your friends and family and celebrating. The MRHS student community is diverse, and with that comes a variety of holidays and traditions being celebrated. The various cultural foods made around the holidays are unique to each student and their families. Sophomore Deshna Dasari shares how her family cooks together each year around the holidays.
"My family and I cook chicken biryani together each year for a Christmas party that we attend annually."
Learning how to cook cultural foods is a meaningful way to spend time with family and celebrate culture. There are so many different unique foods from each culture that are celebrated with their own unique holiday traditions.
"We make lamb and salads, and I make a tiramisu during the holiday season. I celebrate Eid so we feast with 20-30 people at a ginormous table with lamb and a bunch of food," sophomore Reem Abdelghani said.
Feasting and eating cuisine significant to your culture with family is always a great way to spend the holiday season. Cooking a special dessert is also a nice way to connect.
"My family and I, we eat dumplings, noodles, and fish," sophomore Grace Chen added.
Many students have different foods that are meaningful to them that they eat with their family. All the different types of foods students eat during the holidays show how diverse everyone's family recipes and their traditions are.
Sophomore Erin Yi shared how her family eats Korean food and embraces their Korean culture during the New Year and holiday season.
"We eat Dduk Guk during New Years Eve; it's like a rice cake soup with eggs which is pretty good. Kimchi is also really popular in Korean tradition, we use kimchi to make kimchi-jjigae which is a kimchi soup…I want to learn how to make all this to keep this Korean tradition alive in my family," Yi said.
Many students value their family recipes and plan to cook to continue the important traditions in their culture.
Not only students but staff also spend the holiday season with their own traditions and foods. Mrs. Upson, the culinary teacher at Marriotts Ridge shares her favorite festive recipe on how to make Red Velvet Crinkle Cookies. The holiday season is Mrs. Upson's favorite time of year along with many others.
"I love the joy of the season and sharing some of my favorite things with family and friends- especially food. When recipes are shared year after year, they become a family tradition that evokes a sense of nostalgia for the memories of holiday gatherings. I love to fill my table with holiday favorites like sweet potato casserole, truffled mac and cheese, and French bread stuffing, but what I always look forward to most is making holiday cookies with my children! We enjoy making gingerbread, sugar, and Christmas kiss cookies. My personal favorite is a Red Velvet Crinkle Cookie- they are easy to make and a must have for Santa," she explains.
Coming from a culinary background, Upson fills the table with many traditional holiday foods, including her Red Velvet Crinkle Cookies that she shared in the hopes of giving students the opportunity to try new recipes. The recipe can be accessed for students to try and is linked here: Red Velvet Crinkle Cookies.
The many varieties of food incorporating so many different cultures in the MRHS community are what make the holiday season so special for everyone since every family has their own special traditions. Incorporating new recipes during the holidays is a fun way to spend time with family, and can even be a way to start new traditions.
About the Contributor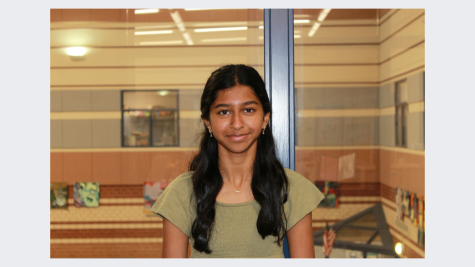 Sahasra Pola, Staff Writer
Hi, I'm Sahasra Pola! I'm a sophomore, and this is my first year of journalism. I am part of the class council at school, and I like to bake, read, and...