Marriotts Ridge's New Year Resolutions
December through the start of January is a special time of year as the school community celebrates the holidays and counts the seconds until the new year. Many individuals like to spend this exciting time with friends and family. Some students in the Marriotts Ridge community choose to celebrate these holidays with certain traditions special to them.
"I go to New Mexico every year to spend time with my family. We all play games, talk, and enjoy each other's company as we wait for the ball to drop at midnight. My dad also makes his famous red chili every New Year's Eve," sophomore Lucas Chavez said.
To celebrate the countdown of going into the New Year, New York hosts an annual Ball Drop that takes place December 31st. This event brings in thousands of people and is broadcast throughout the country and unites the nation. The Ball Drop is also popular within the Marriotts Ridge community.
"Every year my family and I go to New York and watch the ball drop in Times Square. It is one of my favorite memories and a tradition I hope to continue with my own family one day. We have so much fun walking in New York City and eating at our favorite restaurant 'Ellen's Stardust Diner,'" senior Kate Stewart said.
In addition to celebrations, some students commit to change.
At the beginning of every January, many Americans make New Year's resolutions. These resolutions are to better oneself and to improve on certain aspects of life from the previous year. When people pick a resolution, they try their best to stick to it for the whole year. Some common resolutions include working out, eating healthy, or improving one's performance in school or work.
"My resolution for 2023 is to get better grades. I plan on sustaining this resolution throughout the year by studying, using an agenda, talking to my teachers, and turning my assignments in on time … I picked this resolution as bad grades have caused a lot of problems for me, and may affect my future after highschool," sophomore Arha Despande explained.
From an administrative standpoint, Ms. Baek, a guidance counselor at Marriotts Ridge, shared that students should set personally meaningful goals if they want to keep their resolutions.
"New Year's is a great time to set fresh resolutions, but remember, new goals can be established at any point in the year! Student Services suggests resolutions that are personally meaningful and rooted in the principles of a SMART goal: specific, measurable, attainable, relevant, and time-bound."
Students who seek to keep their New Year's Resolutions should consider creating SMART goals. As New Year's fast approaches, the Marriotts Ridge Community is excited to celebrate and fulfill their resolutions.
About the Contributor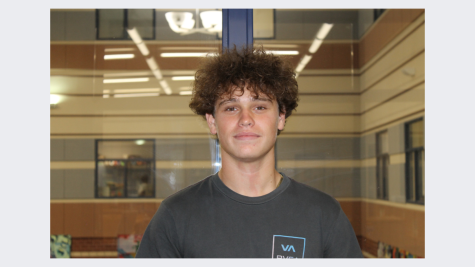 Liam Wolfsheimer, Staff Writer
Hi, my name is Liam Wolfsheimer. I am a sophomore, and this is my first year in journalism. I will be a writer this year, focusing mainly on sports. I...