Seniors Advice to Underclassmen for Midterms
As midterms approach, the class of 2023 shares advice with the underclassmen on how to prepare for exams, considering they were the only class to have taken the test in the past. This year's midterms will be held from January 17th to the 20th.
Since this year will be the freshmen, sophomore and junior classes' first time taking midterms, they are required to prepare for something they've never done before.
Senior Ansel Casper advises students to start studying early and routinely review old work that they have. He also suggests that students should go and ask teachers for any help they need.
"My advice for underclassmen would be to start actively studying early to give yourself time to prepare and ask your teachers questions, and use the modules that they've been putting out all year and review material." Senior Emily Yi agrees with Casper on the importance of studying early and reviewing past work.
"Make sure to start studying early for your exams. I would recommend anywhere from a week or two [prior to midterms] I also recommend reviewing old classwork and past quizzes, those help out," Yi said.
Seniors also provide specific strategies that the rest of the student body can use to prepare.
Yi explains many strategies that have worked for her, "I usually rewrite my notes or use flashcards to memorize stuff. Sometimes teachers give reviews that are closely related to the exams, so I would just go over those. Also, try to remember quiz taking strategies; such as eliminating answers, skipping questions to not waste time, and for English focus mainly on the beginning and the ending [of the passages]."
Senior Dhevesh Ananth suggests preparing by studying in a group.
"I think the best way you can prepare for midterms is by studying in a group. This almost always allows for you to learn things that you didn't remember. Another major part is to look at all of your work done so far. This includes notes, homework, and tests. For me specifically, I think a major part of how I did so well was starting to prepare during winter break. As I said earlier, the better and the less stress you'll have going forward."
As stress and exhaustion dwell over underclassmen, seniors open up on how to deal with these feelings when preparing for midterms.
Senior Rachel Armstrong mentions that to deal with these emotions one has to come to terms with the fact that they shouldn't put too much pressure on themselves.
"Just know that grades and scores don't define you, and your worth isn't only in your academic achievement. I feel like a lot of people put their entire self-worth within grades and that's really unhealthy. As long as you don't do that, you will be fine. Try your best and know there's more to life than a 4.0 GPA," Armstrong said.
As students feel pressure due to midterms, many tend to focus on only studying instead of enjoying their high school life. Casper explains that as you prepare for midterms, it is important to balance your social life and not let all the studying affect your mental health.
"Make sure that you give time for yourself, you don't need to lock yourself in a room and cram study for a whole entire week. Go out of the house or studying environment and hang out with your friends. Do things that will keep your head on straight so that when the time comes to cram those final preparations in, your mental health will be in a better position," Casper said.
With exams being next month, the seniors at MRHS hope that the underclassmen will take their advice and try their best and avoid the stress during their midterms.
About the Contributor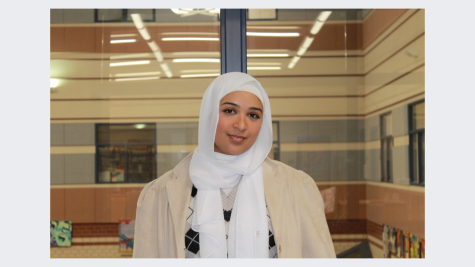 Sidrah Rizvi, Copy Editor
Hello! My name is Sidrah, and I'm a senior! This is my fourth and final year of journalism, and I'm a copy editor. Outside of school, I love driving around,...