Take 73: Taking Marriotts Ridge Community by Storm
Marriotts Ridge is full of up and coming talent, including local student band, Take 73, which has garnered recent attention from the student body. Take 73 was formed by seniors Joseph Zoller, Kyle Stavrou, Noah Felber, and sophomore Charlotte Zoller.
Those who have heard their music agree that the band has a unique and interesting sound.
"We play more of a 60's rock kind of feel, but we are inspired a lot by reggae, so we really like some reggae beats. It's a weird combination because it's not hard rock, and it's not 80's rock; it's 60's rock with a touch of reggae," drummer Charlotte Zoller explained.
In addition to their distinct sound, Take 73's unusual name left many listeners curious.
"On one of the first songs we recorded that we thought was actually decent, we were going through so many takes; it felt like it was the seventy-third take, so in the beginning of our video for it, I just said 'Alright, take seventy-three,' before it started. And we thought it would be cool if that was our name," guitarist Kyle Stavrou clarified.
One of the band's performances that gained them attention recently was their Great Pumpkin concert. On October 29, Take 73 set up a stage and, of course, many pumpkins at the Zoller family's farm for a Halloween-themed concert.
"We had a pretty good turnout for [the Great Pumpkin concert]. It was really cool, it was like an hour and half of us just on stage playing—it was really cold, we were all in Halloween costumes. There was a pretty big crowd, and all of the theatre kids came," Stavrou said.
Many students from Marriotts Ridge, including the aforementioned theatre kids came to support the band; many even dressed in costumes, as well.
"I loved the Great Pumpkin concert. It was super fun to be able to spend time with friends from Mamma Mia, [the school musical], and watch our fellow cast member, Charlotte Zoller, perform. All of us dressed up in fun Halloween costumes which added to the fun of the night," senior Jadyn Kelly enthused.
The Great Pumpkin concert was one of the band's biggest shows, but they have had other live performances this year.
"We did [a performance] in July at Little Market Cafe in Ellicott City—that's an open mic we play at sometimes," keyboardist Noah Felber shared.
From home concerts to open mics, Take 73 is looking for ways to share their music with the community. Their next event will be a Battle of the Bands competition that will be hosted at Liberty High School.
"In January, we're doing something called Battle of the Bands where we get up on stage—we have eighteen minutes to play through as many songs as we can, and we get graded on them. We get more points for original songs than covers, so we're probably going to focus on that, and we'll basically just compete against other small bands," Stavrou said.
For their competition, the band is planning on writing three to four original songs to perform. Lead singer, bassist, and main songwriter, Joseph Zoller, shares his unique writing process.
"I just get a mood and pull out my journal, and start writing some lyrics. I have a melody in my head, and then I go to my cello to learn the melody. I know [how to play] the notes then, and can build up chords… the cello is so much like the human voice, it helps me, since I sing the same notes I play," Zoller explained.
While Joseph is the primary songwriter of the band, their writing process often involves teamwork.
"I help [Joseph] with songwriting. He'll give me a song and say, 'How can I fix this?' He's still the main songwriter… but we definitely work together to come up with the feel of the songs," Charlotte Zoller said.
Along with writing the songs that they will perform at Battle of the Bands, Take 73 will prepare for the competition through rehearsals. The band's rehearsal process looks much like their writing process, in that it involves Joseph's leadership and the bandmates' teamwork.
"[Our rehearsals] are every Friday night most of the time; sometimes we meet over the weekends too. We meet together, and Joseph tells us what songs [to play] and gives us all our stuff, and we kind of just play through it. It's not very structured because we understand each other—it's very fluid—but we come up with setlists together and have a Google folder where we keep our music, so we're organized, but we're fluid at the same time," Charlotte Zoller shared.
Although the band has been playing together for some time now, not all of the band members were well-versed in their respective instruments when they first started. Drummer Charlotte Zoller had an interesting origin to her instrument; her background in dance helped her learn to play the drums.
"My tap [dance] teacher was like, 'You should learn how to drum, it would be helpful because tap and drumming grew up in the same era of jazz,' so I thought that would be fun, and I did it. It's helped me a lot," Zoller said.
The members of Take 73 are just some of many music lovers here at Marriotts Ridge. Guitarist Kyle Stavrou shares his advice to students who may be interested in starting their own band.
"Find other people who share that same passion," Stavrou advised. "You don't have to be good at your instrument—I started my band literally within the first couple weeks of playing guitar, so if you start just messing around with people who also play instruments and have a passion for music, you'll be able to create something pretty cool."
Whether it's their future career path or just a fun hobby, Take 73 certainly exemplifies how music can bring community together and reveal hidden talents. Be sure to check them out on Instagram @take_seventy_three.
About the Contributor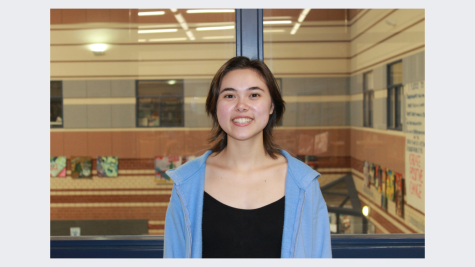 Mars Early, Arts & Opinions Editor
Hey! My name is Mars, and I'm a senior. I'm excited to be the Arts and Opinions editor this year for The Stallion. I am involved in musical theatre...