Marriotts Ridge Gives Back to the Community
During the holiday season, Marriotts Ridge Mustangs gather their time and resources to donate to many drives for charity. The National Honor Society (NHS) and many other clubs throughout the school have had successful drives throughout this school year, especially the past month. They have sold a variety of different items and raised a great deal of money and materials.
Toys for Tots sponsored by the NHS is a charity drive in which people from different classes donate toys to help children in need who may not be getting a present for Christmas. All the toys were donated through students' third period classes.
"Toys for Tots was a tradition started in the 40's. We have continued it all the way to now, and we've turned it into more of a competition with a prize to get more people to donate toys," senior and NHS member Annie Wang said.
Donations were collected throughout the week of December 2nd through the 9th, and the class that brings in the highest amount of toys will win a Chick-Fil-A breakfast, further encouraging people to donate. At the end of the drive, the school collected 2,352 toys in total. Ms. LeChevet's third period came in first with a total of 378 toys. This year, Marriotts Ridge beat their record by having the biggest toy drive in history. Marriott Ridge made it onto Fox 45 News as well as they presented the toys to the marines.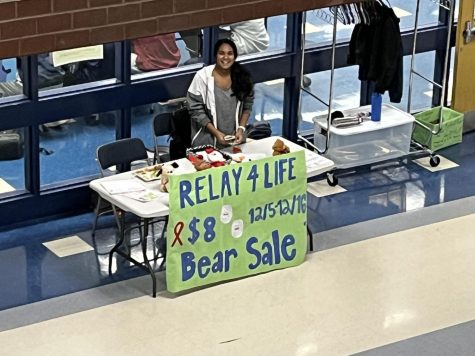 Another charity that happened this month is the Relay for Life club's Holiday Teddy Bear sale. Relay for Life is a club at Marriotts Ridge that raises money by hosting various fundraisers and activities to donate to the American Cancer Society. This fundraiser took place December 12th through the 16th. Relay for Life sold a variety of stuffed animals as a way to raise money for the American Cancer Society.
"We spread awareness through our Instagram posts. We talk about the drives and describe how the fundraisers will help cancer researchers and cancer patients. We also spread awareness by making posters. In the common area there is a big poster hanging where it talks about our bear sale and the purpose of it," Riya Koshy, Relay For Life Vice President said. Another one of the many drives is the feminine product drive, run by the Equality Now Period club.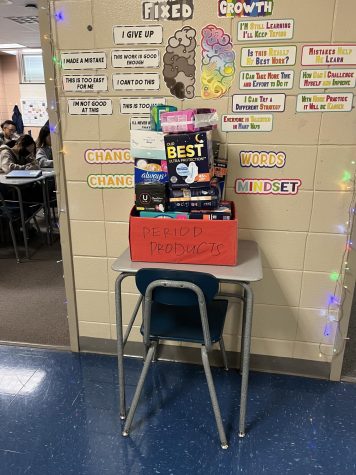 "The main thing is, period products are necessities, not luxuries, so our club goal is to help spread awareness for this global issue, and aid in preventing period poverty in our community and in our greater community," Allie Bonier, sophomore president of Equality Now Period informed.
The feminine product drive is helping donate to the Sarah's Hope Good Shelter, and it has also helped to stock up products in Marriotts Ridge's own bathrooms as well. This drive took place December 12th through the 16th. People donated to any of the red boxes.
"Our goal is to not only provide for the Sarah's Hope Shelter, but also to stock the bathrooms in our own school.
"We will need a lot of products and we plan to do as many fundraisers and drives as we can," sophomore Aleena Jayan of the Equality Now Period club said.
Yet another one of the many drives taking place from November 28th to December 9th was the school and health supply drive run by Educators Rising.
"Currently, we are doing a school supply and health supplies drive and all of the donations that are donated will be going to Howard County elementary school," junior and logistics manager of Educators Rising Sarah Hill said.
The goal of the Educator's Charity drive is to supply elementary schools around Howard County with both health and school supplies, preventing teachers from needing to buy items for their students using their own money. The Toys for Tots donation drive helps provide toys to children in need for the holidays, the Teddy Bear sale helps raise money for the American Cancer Society, and the feminine product drive collects products for Sarah's Hope Good Shelter and Marriotts Ridge. Thanks to these drives, the Mustangs have plenty of opportunities to give back to people in need around the holidays. The charity drives around the school were a great success and the school hopes to see more in the future.
About the Contributors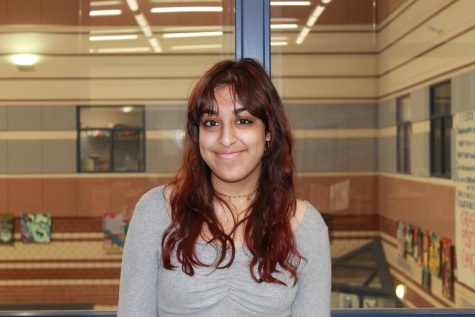 Raniya Baig, Staff Writer
Hi, my name is Raniya. I'm a junior, and this is my first year in journalism. Outside of school, I work at a café and enjoy hanging out with my friends...
Sumaira Uddin, Staff Writer
Hey! My name is Sumaira, and I am a junior. This is my first year of journalism, so I'm relatively new, but I'm excited to do and learn new things....