Mustangs Hop into the Lunar New Year
The Lunar New Year, celebrated in China and by the Chinese diaspora, falls on January 22 this year and ends on February 5, beginning on the new moon and lasting for 15 days. Every year is assigned an animal according to the Chinese Zodiac, and 2023 is the Year of the Rabbit, an animal associated with good fortune, peace and patience. Students at Marriotts Ridge discuss how they and their families will be celebrating, along with the specific traditions they'll be partaking in.
Students shared what food their families like to celebrate with, as there are many traditional Chinese dishes that are eaten for the Lunar New Year.
"We eat dumplings, steamed buns (or bāozi), and noodles. My dad makes the noodles… they're kind of like chǎomiàn [a stir-fried dish usually consisting of noodles and meat] but it's my dad's own type," senior Katie Wu said.
Every family eats different foods, but dumplings are the most common dish.
"We make homemade dumplings [and] we usually eat the dumplings with dumpling soup (the water the dumplings are cooked in)," freshman Cici Huang said. "For dessert, we eat a variety of traditional chinese desserts called gāodiǎn."
From visiting relatives to giving out hóngbāo (red envelopes containing money that act as symbols of good luck), every family has different customs when it comes to the Lunar New Year. Students talked about some of their favorite traditions and the celebratory activities they participate in annually.

"
We always talk to our families back in China. Since most of our family is there, we'll always FaceTime with them. There's also this Chinese New Year show that they play in China called chūnjié wǎnhuì, and we always stream it."
— senior Mia Fang said.
Spending time with family and friends is a significant part of the Lunar New Year as it gives everyone an opportunity to catch up with one another in celebration of the new year.
"My mom writes a list of all the recipes she makes on this whiteboard… all this really good food for us for Chinese New Year," junior Serena Huang said. "Sometimes we go over to someone else's house or they come to our house, and then we feast. And obviously we exchange red envelopes, or hóngbāo."
Students in the Chinese Club, Chinese Honor Society or Chinese classes at school partake in fun Lunar New Year themed activities during the holiday season.
"We normally do a little decoration and we do a Chinese New Year study guiding our class," Chinese teacher Mrs. Liu said. "The Chinese club and the Chinese Honor Society will normally decorate the hall right next to my door just to celebrate the new year."
With the Lunar New Year fast-approaching, those in our school community of Chinese heritage eagerly anticipate the food, gifts, and family reunions that will soon be taking place. The holiday is not only another opportunity to reflect on the new year, but a way for students to celebrate their Chinese culture and to appreciate all the good in their lives.
About the Contributor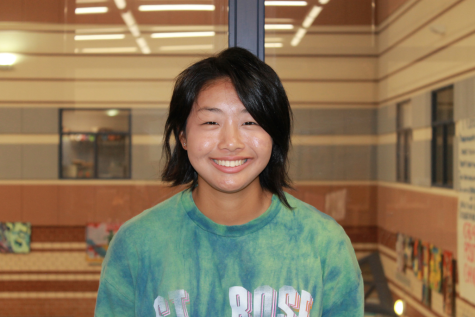 Annie Wang, Overflow Editor & Staff Writer
Hi! My name is Annie, and I'm a senior. I'm involved in Marriotts Ridge's speech and debate team, and I play the french horn both inside and outside of...