A Tribute to Style Icon Vivienne Westwood
On December 29th, 2022, the famous and beloved fashion designer Vivienne Westwood passed away at age of 81. With her many awards and accolades, Westwood had a significant impact on many people, including Marriotts Ridge students.
Vivienne Westwood created innovative designs that reached many different demographics, including teenagers. Vivienne Westwood started her career working small stalls and boutiques, and eventually her fashion business began to expand and she became more well known across the world. Her clothing was for everyone; it ranged from menswear, bridal clothing, jewelry, and much more. She brought new styles into mainstream fashion and was a big influencer to many in regards to their own interest in fashion and designing.
Westwood was very well known across the world, and even has the biggest exhibition in the famous Victoria and Albert Museum in London dedicated to her and her works of art. She received many accolades for her work, including the British Designer of the Year in 1990 and 1991, and just recently in 2021, the Glamour Award for Environmental Gamechanger.
Vivienne Westwood was not a typical designer, she added her political views and was an activist in her time, all of which she expressed through her clothing. Her style was unforgettable and made her stand out to the public.
"All of the wedding dresses she [made], her jewelry, it's very timeless and just very likable," sophomore Grace Chen said.
Many of Westwood's pieces have stayed relevant, the Orb Necklace included. Her bridal wear is loved by all, and many would dream to wear a Vivienne Westwood designed wedding dress at their own wedding. Though her style may seem old-fashioned to some, many would disagree saying her clothing is relevant even now.
Senior Symone Gordon, who designs her own clothing, provided a great deal of information on Ms. Westwood. Much of Vivienne Westwood's fashion incorporated politics and activism, which really appealed to the younger demographic. Her logo itself has meaning; it is a representation of both the past and future, using the sovereign orb and rings of Saturn with representation of the monarchy behind it. This logo is seen in her orb necklace, which became popular among the newer generations and teenagers now. Her modern day punk style was extremely different from other designers, and she used many different patterns and colors. Her fashion in general was very controversial among the fashion community at the time. Her clothing allowed for women to express themselves and brought more new and inclusive clothing for women in general. Many people appreciate her works because not only is it timeless but has meaning and significance behind it as well.
Vivienne Westwood was influential to many people, students included. She made a large impact on the fashion industry and set a standard for women's fashion across the world by voicing her opinions and views through her fashion and inclusivity, making anything from menswear to jewelry. Vivienne Westwood will stay relevant in the fashion industry for many years and continues to influence fashion today.
About the Contributor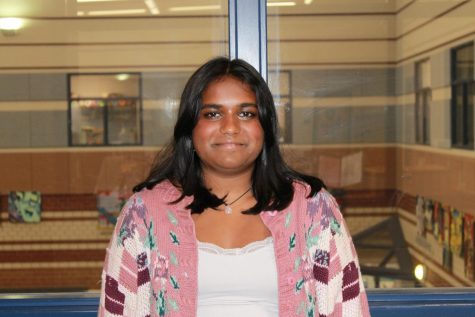 Sami Janakiraman, Staff Writer
Hi, my name is Sami! I am a sophomore in my first year of journalism and I am a writer this  year. I enjoy reading, cooking, and I play tennis outside...