MRHS Students Are Jazzed To Sing For The Holiday Season!
December 20th, 2022 was Marriotts Ridge's Jazz Cabaret in which choir students sang in the holiday spirit. Many students performed solos and duets and were excited to share their music with parents and loved ones for the holiday season.
This year, Marriotts Ridge is prepared for the well-loved Jazz Cab that they perform every year for the holidays.
"Jazz Cab is a holiday tradition here at Marriotts Ridge and we have two choirs performing, the Madrigals choir and Women's Ensemble… We started rehearsals back in September, there are also soloists and duos who can audition," Choir teacher Mr. Rawlings said.
Auditions were held in late November, and final decisions were released at the beginning of December, which commenced the soloist's and duettist's rehearsal journey in order to perfect their singing in time for the concert.
The soloists and duettists were eventually chosen, and 14 students were chosen. One of these students was senior Anika Sinha. Sinha performed "Christmas Time is Here," with seniors Jillian Altenburg and Kelly Maclean.
"I felt happy because I get to do it with my friends so it will be a great experience especially since I'm a senior, I'll get to share songs with them and watch everyone perform so I'm really excited for it." Sinha said.
Every year students perform several holiday songs for the audience. This year, many students are filled with joy since they'll be able to perform new music that they have been working on since almost the beginning of the year.
"I know Santa Baby is being performed, which I am really excited for," sophomore Natasha Randhawa said.
Though students are excited for the holiday songs that have been chosen, some would also like to see new songs replace some of the old songs that have previously been performed.
"I want to see more contemporary, modern songs, rather than regular carols," sophomore Simar Saini said.
As times are changing, so is music, which some students would like to see reflected in the upcoming years at Marriotts Ridge.
"[The choir's] music, sometimes year to year, has also been a tradition but after a while we want to give our repeat customer some new music, so we prepared some new music this year hopefully to break those traditions." Mr. Rawlings explained.
The songs performed at Jazz Cab are a different style of music that students are excited to perform in comparison to their regular music.
"Jazz Cab is different from our typical music, and jazz songs are more fun and you get to have a little more style with it. It's more of a group experience and more fun compared to regular choir music," sophomore Nishith Tripathi said.
Though excited, students, especially those doing solos, duos, or trios, worked hard to make the performance be the best it could be.
"We have to show up at 6:30 in the morning on Wednesdays and Fridays, so twice a week, which can be a little tiring but again it's always fun to rehearse with the band because they're so good and all the solos sound so good with the band." Sinha said.
Choir students worked hard in the upcoming weeks before the concert, as well as their accompanists who performed with them. Though the work can be tiring and hard, the choir students were willing to put in the effort.
The Jazz Cabaret of 2022 was an incredible performance, with the multiple solos and students cheering them on in the crowd. The Choir Student's hard work and dedication to their music was seen in their performance and they were able to bring holiday cheer and spirit to Marriotts Ridge this winter.
About the Contributor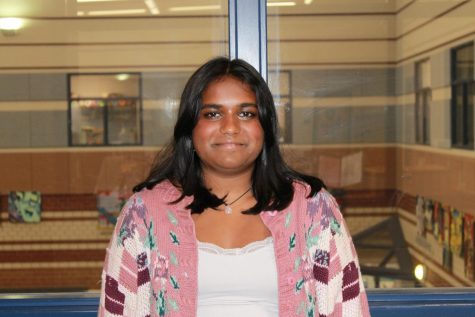 Sami Janakiraman, Staff Writer
Hi, my name is Sami! I am a sophomore in my first year of journalism and I am a writer this  year. I enjoy reading, cooking, and I play tennis outside...