Indoor Track Speeds through the Season
The Marriotts Ridge Indoor Track team has had a great, award-winning season with many athletes placing at counties and moving on to compete in regionals and even states. Their hard work, improvement and dedication to their sport has paid off.
The start of the season in November came with many changes for the team, such as how practices were run and new members joining the team.
At the start of the season, relay teams were formed according to the abilities of the team's new members. This strategy proved to be successful, especially in the creation of the girls 4×800 meter relay team that consisted of distance runners Bella Boats, Alyssa Mattes, Junie Ro and Leah Klaus.
Throughout the season, this group has improved both together and individually. The team placed first in the 4×800 meter at counties and third overall during regionals, closely following River Hill's 4×800 meter girls team with just a three second difference. All their hard work and practice paid off and made them eligible to compete in the 3A Maryland State Championships.
This major accomplishment came with many hours put in from each of the girls, which helped them work together to achieve their goal.
"I think staying consistent is key. Some days I just don't want to practice, but I show up, and that's how I get better," freshman Alyssa Mattes said.
Sophomore Leah Klaus had many great meets this season, mainly running and competing in the 500 meter and in the 4×800 meter. Although she has worked hard and made good progress throughout the season, she ended up feeling disappointed with her results compared to those of her previous meets.
"I was disappointed as I did not do as good as I thought—it was probably one of my worst races this season. However, I am proud of everything else I have accomplished this season," Klaus said.
Alyssa Mattes agreed that although she has been working up to this, there was still room for improvement.
"I feel like I could have done better, but I feel that I gave it my all, and that's all that matters," Mattes said.
Although all of the track runners have worked hard throughout the season, there were certain uncontrollable circumstances, such as running on a track different than the one they had been accustomed to, that made the experience a little more difficult.
"Usually our track meets are held at the Prince George's Sports and Learning Complex. However, for Regionals, the meet was held at the Fifth Regiment Armory in Baltimore, where the track floor was more like those of a gym floor," Klaus said.
This season was the first year sophomore pole vaulter Dante Sias has competed for Marriotts Ridge. However, this change of teams did not stifle his improvement, as he placed third overall for pole vaulting at the Howard County Championships on January 20th.
"This is my second season doing pole vault. I started freshman year and have improved a lot; my form has gotten better with the help of my coaches," Sias said.
Freshman Bella Boats has also had an award-winning season with many accomplishments. During the Howard County Championships, she placed sixth overall in the girls 800 meter, and during regionals, she placed fourth overall, making her eligible to move on to compete in the 3A Maryland State Championships on February 22nd.
"Being able to make it to regionals is one thing but making it to states as freshmen is just a whole other level. The second I crossed that finish line, I noticed what I placed and couldn't believe it. Going to states is a dream come true for me and I'm planning to make my mark by showing everyone who I am," Boats said.
Team captain and senior Lizeth Pineda finished off her season off strong, competing in many sprinting events, such as the 55 meter and 55 meter hurdles.
"This season was definitely fun. I loved last year too, but being captain this year and it being my last year… it was definitely a season to remember. If I could have stayed another year I would have," Pineda said.
The runners have made significant progress this season, working hard to achieve their goals. The team is now looking forward to the next indoor season and everyone is ready to build upon what they have learned from these races.
About the Contributor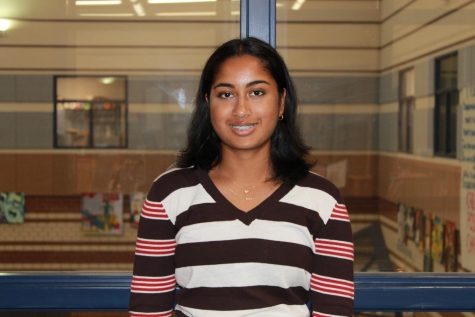 Simran Singh, Staff Writer
Hi! I'm Simran Singh, and I am a sophomore. This is my first year in Journalism, and I'm excited to be a writer for The Stallion. I'm in class council...