2023 Launches With New Movies And TV Shows
As 2023 begins, new movies and TV shows are being released to the excitement of fans all across the world, including here at Marriotts Ridge. New movies and shows like Teen Wolf, Outer Banks, Ant-Man and the Wasp: Quantumania, Puss In Boots and The Last Of Us are grabbing students' attention. While some fans are glued to their screens watching a new movie or show, others are impatiently waiting for one to be released.
The Last Of Us, a recently released TV show based off a popular video game of the same name, released its first episode on January 15th. After a deadly global fungal outbreak, Joel and Ellie, characters from the video game, face cruel challenges and vicious killers during their attempt to trek across America. This show attracted lots of attention from video game lovers.
"I think [the show] stays true to the game in the ways that it can. Not everything that was in the game would make sense in the show, so not everything can stay the same. They changed a few things so it could fit the narrative more, and I like that. I think the actors have done a really good job and I'd watch another season even though I already know what happens because I've played the game," sophomore Spencer Hess explained.
While some students are enjoying the thrill and gore found in The Last of Us, others are revisiting a childhood classic, Puss In Boots, which has resurfaced, as well, after ten years since the last movie was made. On December 21st, 2022, Puss In Boots: The Last Wish was released. A fan favorite, the main character Puss finds out he has used up eight of his nine lives. He goes on yet another journey to find "the last wish" in order to restore all of his lives. Students loved this action-packed movie.
"I thought the new movie was so good, Death [the villain] was really intimidating. I liked that Puss was happy in the end, and the way the plot unraveled was really interesting. It was really exciting and this last one was definitely my favorite," sophomore Hamza Malik said.
On Netflix, the Pogues are back and better than ever! On February 23rd, season three of Outer Banks comes out, and fans are counting down the days. Outer Banks, a show about teenagers searching for hidden gold, gained popularity when it was first released in 2020. Now, the main character John B and the pogues are back and ready for another journey.
"I am very excited for the new season. The last season really left off on a cliffhanger, John B's dad came back even though he was 'dead' for the past two seasons, so I really want to see what happens with that. I loved the old seasons, especially JJ. I think that this season the pogues are going to finally get the gold and the cross. I also really like Sarah and John B together, but in the end they got toxic for each other, so hopefully Sarah will get with a different pogue," sophomore Lamees Bazzi commented.
After four years since the end of the six season show, a Teen Wolf movie was released on January 26th, Teen Wolf: The Movie, starring Tyler Posey as werewolf Scott Mcall, finally gave the show a proper ending.. The pack, along with old friends and past villains, have returned to Beacon Hills to defeat the nogitsune, an evil trickster who possessed Stiles, once and for all, and fans are thrilled.
"Personally, I loved the show and was so happy and grateful when they decided to come out with a movie. When the show ended, most of the pack was going to college. The movie gives the audience an idea of what their lives turned out to be like. I think adding Eli as Derek's son was a nice touch. I also liked how they brought the nogitsune back, he was my favorite villain," senior Matthew Park said.
Coming February 17th, the movie all Marvel fans have been waiting for: Ant-Man and the Wasp Quantumania. In this third Ant-Man movie, Scott Lang and Janet Van Dyne explore the quantum realm, leaving fans eager to see what happens.
"I am very excited for the new movie. It looks interesting, they're all older—Ant-Man and his daughter—and they are in a different realm, and that's very cool. In the new movie, there's probably going to be a traitor, and definitely a couple new characters from another realm, maybe and something stuck in a realm that we don't know about. I think someone might die in the realm or someone will do something in a realm that will somehow tie into the rest of the MCU," freshman Andrew Lancaster theorized.
All these new and exciting movies and TV shows have students on their toes. Many fans at Marriotts Ridge can't wait to buy tickets or pop popcorn to enjoy these amazing and unpredictable films.
About the Contributor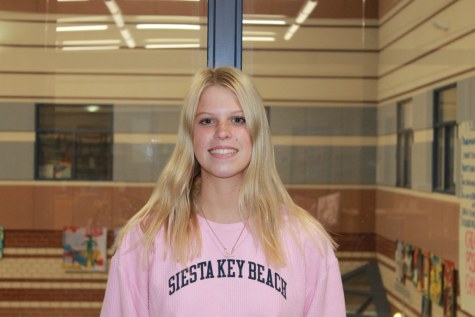 Samantha Matlock, Features Editor
Hi, my name is Samantha Matlock. I'm a senior and the Features Editor for The Stallion. I love writing and being in journalism, and outside of school,...