Six More Weeks of Winter: Groundhog Day 2023
On February 2nd, Punxsutwaney Phil emerged from his burrow to the sight of his shadow, which supposedly means that there will be six more weeks of winter.
The first official Groundhog Day took place in Punxsutawney, Pennsylvania in 1887. The tradition stems from the Ancient Christian tradition of Candlemas, a Christian festival that celebrates the presentation of Jesus at the temple of Jerusalem. The clergy would bless and distribute candles for winter, which represented how long and cold the winter would be. Later, they appointed the Groundhog with the role of predicting the weather because of the date when it emerges from its burrow, which is perfect timing to predict the upcoming winter weather.
As the third quarter of school begins, so do the harshest months of winter. Throughout Marriotts Ridge, students are anticipating spring and relief from the icy air they face each morning before school.
Because the Groundhog saw his shadow, this means winter will remain for 6 more weeks. This announcement came as crushing news to those who love spring and are ready for warmer weather.
"
I was devastated when I heard the news that winter has been prolonged. I was really excited for the possibility of spring starting soon"
— junior Nadia Klemensten
With lots of students who love to participate in outdoor activities such as going on a hike, planting a garden, and much more, the thought of early spring was a daydream for them.
"I horseback ride for fun on the weekends, and warm weather makes it way more enjoyable …it's disappointing that we have to wait even longer," senior Skylar Owens explained.
Even though the groundhog's action was disappointing to many, the festivities of this day still continue.
Mustangs have many different ways of celebrating Groundhog's Day. Throughout the school, there are a few die-hard Groundhog Day celebrators.
"Each year I tune into the news of what the groundhog predicts and I bake a groundhog themed cake. I firmly believe in the groundhogs reveal, He's like the Lorax, but speaking for the seasons instead of the trees," freshman Allison Freitag said.
Like any other holiday, families have their own traditions for Groundhog Day.
"Every year on Groundhog Day, my family throws a complete bash to celebrate. We like to hunt, so we make it a competition within my family to catch a groundhog for dinner (we have a permit so it's legal). Whoever catches one first is given the first bite of our delicious feast," freshman Brett Cumberland said.
Not only are groundhogs celebrated, but they are well loved by many within the community.
"Me and my dad love groundhogs so we have a shared Pinterest board of groundhog pictures. Each year around Groundhog Day we go on a long hike in hopes of seeing one and photographing one in the wild. We don't always succeed but it's a lot of fun," freshman Sara Karachiwalla recounted.
Not everyone has such grand celebrations, but many students still appreciate the creature.
"Groundhogs are a really cute animal, and I trust what he has to say about the weather," senior Rafeal Feldmen said.
For many, Groundhog Day is a nostalgic holiday.
"Ever since I was little I've thought groundhogs are adorable and they remind me of my childhood. I think it's great they have their own holiday," senior Melina Parson said.
Every second of February, the groundhog is celebrated with traditions such as parties, baking, hikes, or simply just watching the news to find out if this year's season will have six more weeks of winter or an early spring. Marriotts Ridge Mustangs have unique ways of celebrating Groundhog's day, and overall love and trust in the adorable animal.
About the Contributor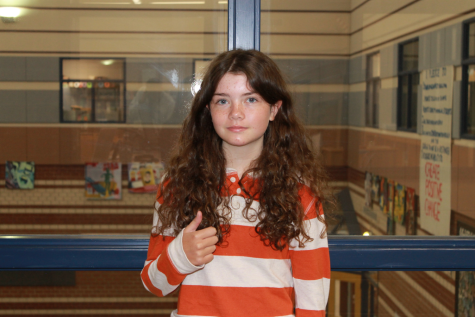 Gracie Donahoe, Staff Writer
Hey, I'm Gracie. I'm a freshman, and I'm psyched to be a writer for The Stallion this year. I love music: I play guitar and drums. I also skateboard.